Theresa Onuorah is a talented dancer and singer who smiles always. Read further for detailed information about Theresa Onuorah Biography, Songs, and Age.
Also, Theresa Onuorah is widely known as Queen of the Coast and has also been tagged a goddess in the music industry.
Before we dive further into Theresa Onuorah Biography, below is a table of quick information about her.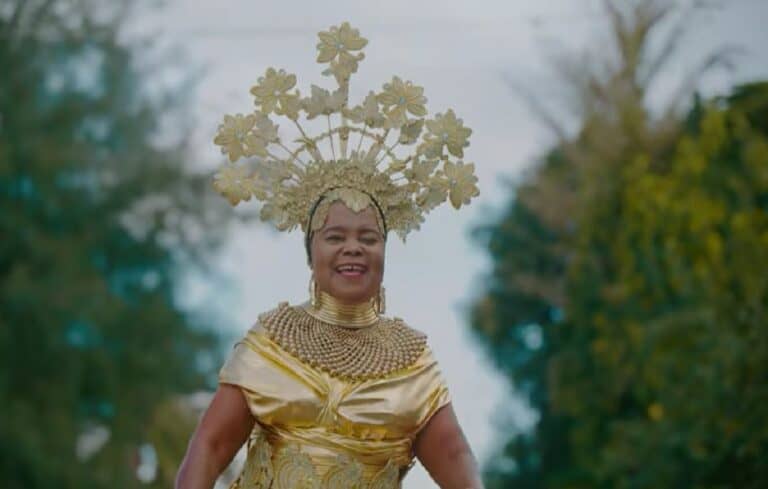 Theresa Onuorah Biography
Full Name
Theresa Onuorah
Age
80 (2022)
Husband
Godwin Igboebisi
Net Worth
$25,000
Place of Birth
Anambra
Nationality
Nigerian
Songs
Egedege
Ugochi Nyerem
Egwu Ndi Eze
Onwunwa Munachi
Ojembe Enwilo
Onye Ejila Ihe Uwa Gwa Medley
Queen Theresa Onuorah Biography
Theresa Onuorah has an estimated net worth of $25,000.
Queen Theresa Onuorah Age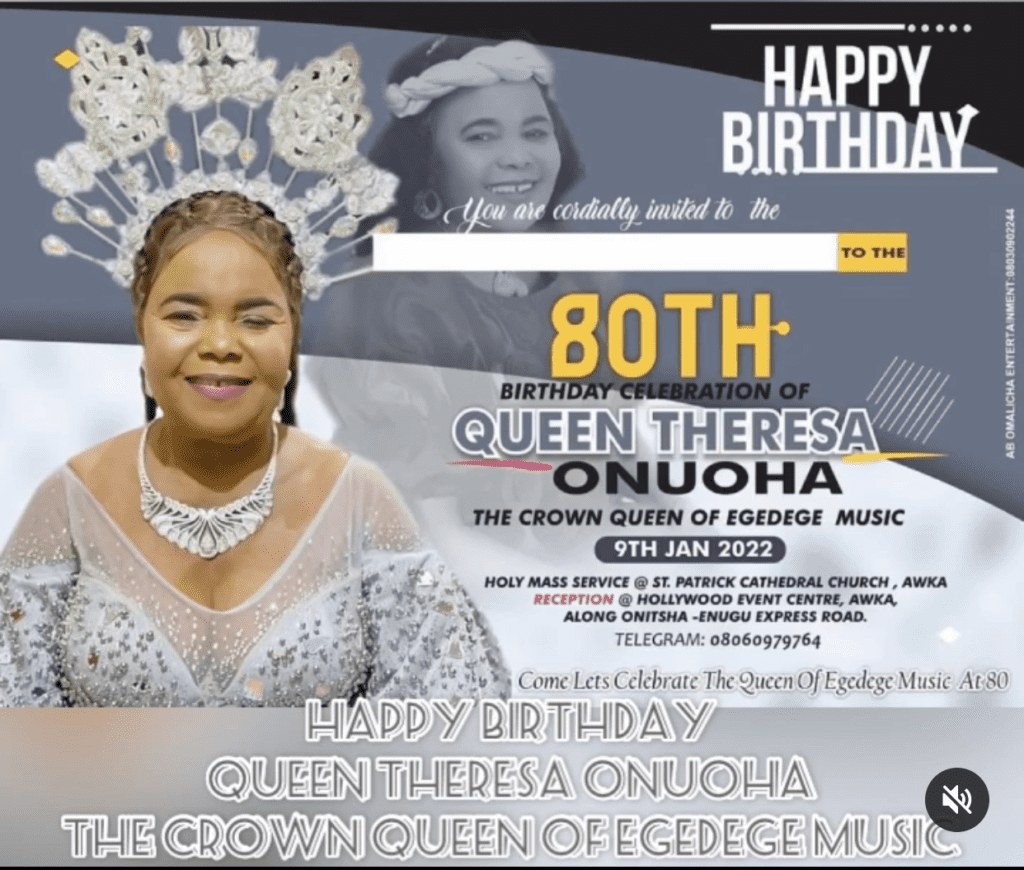 How old is Queen Theresa Onuorah? There is no public information about the talented musician's date of birth. However, she celebrated her 80th birthday in January 2022.
Also, read Pete Edochie's Biography.
Childhood and Education
Theresa Onuorah whose full name is Theresa Chizeberum Onuorah is an Igbo singer and song composer. She was born and raised in Nnewi South, Unubi of Anambra State. She's known to be in her sixties and she is a native of Anambra State.
Not at all have we been able to gather information about the prolific musician's Education and Age, but we'll read information about Theresa Onuorah's Career
Career
Theresa Onuorah is widely referred to as Queen of the Coast and the Egedege Dance Goddess of Unubi. She is really a great music composer who started singing at a very young age. She was the talk of several towns and parts of Eastern Nigeria, especially in the 90s. She's popularly known for her passion for high life music with a redefined genre of Igbo Traditional Music "Egwu Egedege".
Back then in the 90s, photographers were unable to take any pictures of the lively singer but with the rise and arrival of android camera phones, her face can be captured.
Furthermore, Theresa Onuorah has some unique features, her mesmerizing ancient voice, her Ogene melody, and the elegant Egedege dance.
Also, Egedege is an interesting genre of Igbo highlife music. The sound is usually produced by the use of drums, flute, Udu, and Ekwe to create melodious tunes that are danceable.
In addition, Theresa Onuorah is said to always knit her face with beaming smiles when she makes the moves of the Queen as she performs. Her Ogene melody and Egedege dancing troop were common in the East during the 80s and 90s and some of her hit albums which are still trending to date include "Oba Egwu", "Ogene Ekwubego Mu Na Onye ga-agba egbu", "onwunwa", "Ebelebe egbuonu ọ, Ana ekwu Ana eme eme ndi Egwu na-enye ekele n'obodo", etc
More lately, Theresa Onuorah was featured in a song with Larry Gaaga, Flavour N'abania, and Phyno in the song titled "Egedege" which was widely received with love by lovers of Igbo traditional music.
Also, read Joke Silva's Biography.
Theresa Onuorah Songs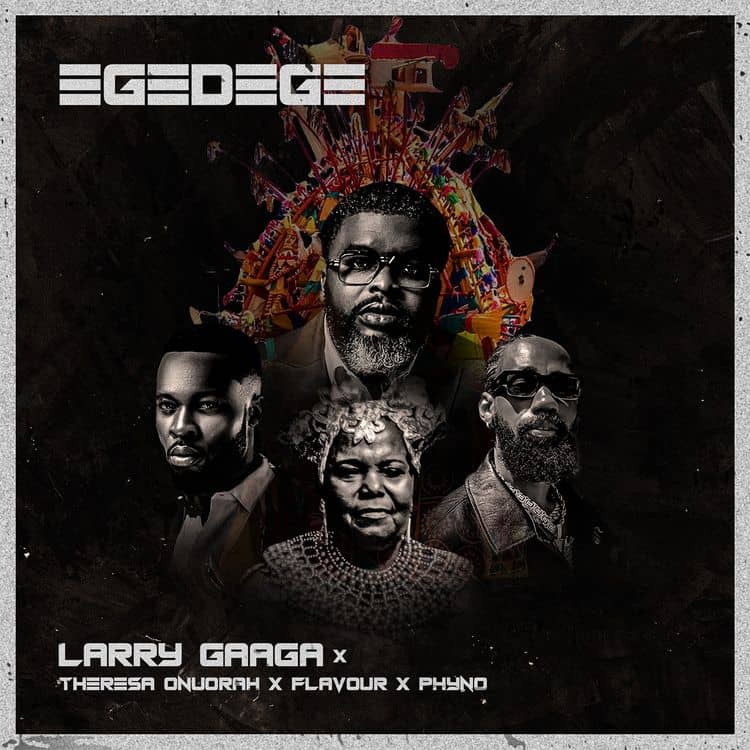 To enumerate, here is a list of some of Theresa Onuorah Songs:
Egedege
Ugochi Nyerem
Egwu Ndi Eze
Onwunwa Munachi
Ojembe Enwilo
Onye Ejila Ihe Uwa Gwa Medley
Ijem Irue Medley
Ekele Dili Anambra Na Imo Medley.
Theresa Onuorah Net Worth
Theresa Onuorah might be old but she is still agile. She has an estimated net worth of $25,000
Moving further, we will read about Theresa Onuorah's Family.
Also, read Uche Nancy's Biography.
Theresa Onuorah Husband and Children
Is Theresa Onuorah Married? This is a common question asked about Theresa. Although she kept her personal life information private, she is legally married.
The prominent singer, Theresa kept her family's affairs off the media. She's legally married to a supportive husband Godwin Igboebisi with grown-up children.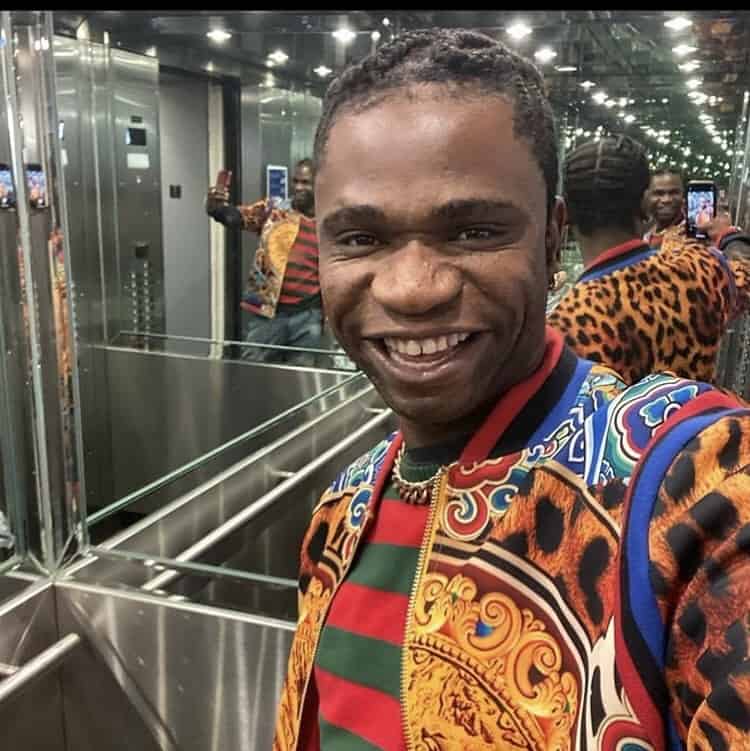 One of Theresa Onuorah's children is also a celebrity, a musician who goes by the name "Speed Darlington".
Also, read Public Administration courses in Nigeria.
Summary of Queen Theresa Onuorah Biography
A quick recap, Theresa Onuorah is an active musician and dancer in her 60s. She's known for her Ogene music and Egedege.
Theresa Onuorah is married to Godwin Igboebisi.
We hope you find this piece about Theresa Onuorah interesting, if so, kindly leave us a comment and share it with your friends and family.
Before you go, read Chiwetalu Agu's Biography.