Joke Silva is one of the best actresses ever to grace Nollywood. She is an amazing actor, producer, director, and entrepreneur. Read further for detailed information about Joke Silva Age, Biography, Husband, and Net Worth.
The renowned actress is married to the popular veteran actor, Olu Jacobs. She was born on 29th September 1961 in Lagos.
Before we dive further into Joke Silva Age and Biography, the table below holds quick information about her.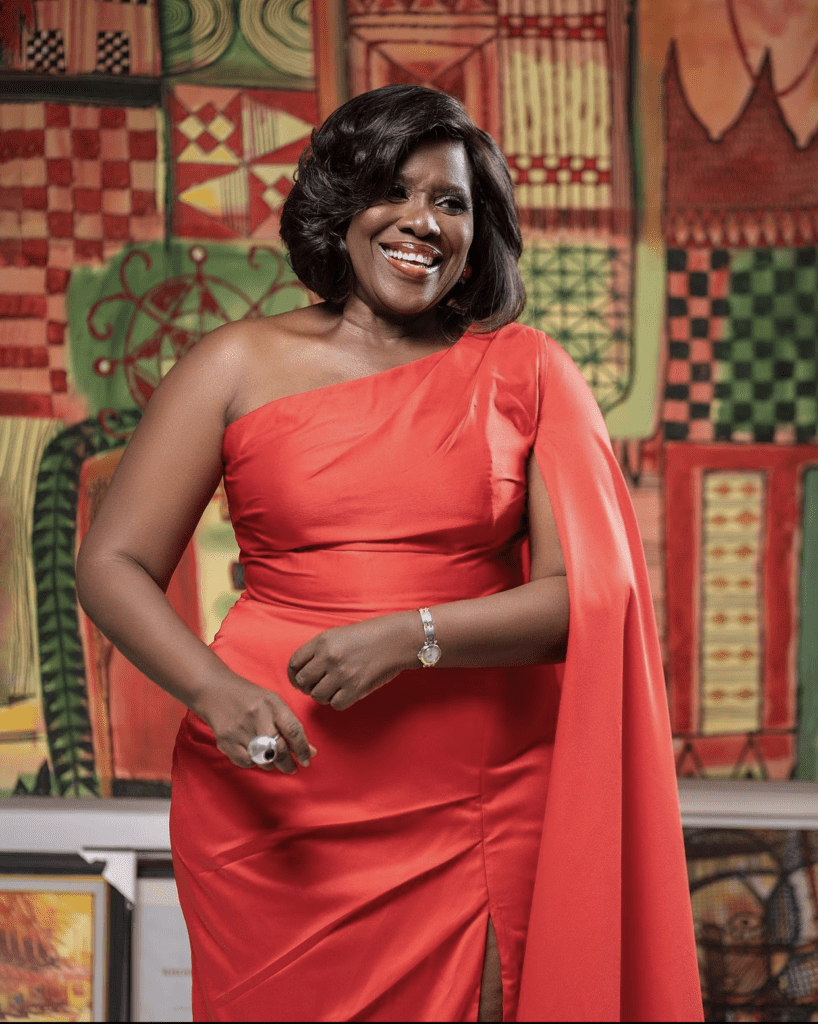 Joke Silva Biography/Wiki
Full Name
Ajoke Silva
Age
60 (2022)
Date of Birth
29 September 1961
Husband
Olu Jacobs
Education
English
(University of Lagos)
Net Worth
$1,200,000
Movies
The Set Up (2019)
Light in the Dark (2020)
Citation (2020)
Namaste Wahala (2021)
The Wait (2021)
The Olive (2021)
Chief Daddy 2 (2022)
Children
Dayo (Deceased),
Olusoji,
Olugbenga
Profession
Acting
Joke Silva Biography
Joke Silva was adopted by her foster parents, Chief E.A Silva and Mrs. Abimbola Silva. Chief Silva was a renowned lawyer while her mother was a doctor, the third female doctor in Nigeria. She died at the age of 89 in 2015. She is an Amaro by Ethnicity, a descendant of freed Afro-Brazilians who settled in Nigeria.
Joke Silva Age
Ajoke was born on the 29th of September, 1961, and Joke Silva age is 60. The actress will turn 61 on the 29th of September, 2022.
Also, read Funke Akindele's Biography.
Education
She attended Holy Child College in Lagos for her secondary education. After, She studied English at the University of Lagos (UNILAG). She also studied Drama at the Webber Douglas Academy of Dramatic Art in London.
While in the academy, she was an active member of a cultural group as she loved theatre arts.
Career
Joke Silva had loved acting right from her early childhood days however her parents did not want her to be an actress at the beginning. She began acting in 1990 and had featured in several movies.
Prior to the beginning of her acting journey, she had worked in radio productions at the Nigerian Television Authority, NTA. She quit and enrolled for two years of training in acting at Webber Douglas Academy of Dramatic Art before coming back to Nigeria.
She featured first in The British film, "Mind-bending". Furthermore, she continued her acting journey featuring in Owurolojo (1993), Violated (1995), and The Secret Laughter of Women (1998).
Her career received a massive boost right from 2006. Consequently, she bagged several awards and nominations were coming in from home and abroad. She featured in several notable movies such as 30 days, Phone Swap (2011), The Royal Hibiscus (2017), and Diamonds in the Sky (2018) to mention a few.
Joke Silva Husband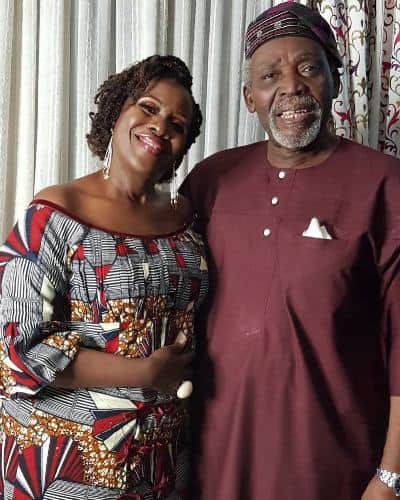 Joke Silva is married to another legend in the game, the one, and only Olu Jacobs. They got married in 1989. Their marriage is enviable and had been waxing stronger for over three decades.
Together, they are one of the most powerful couples in the industry. Unfortunately, her husband is diagnosed with dementia and Lewy body. She disclosed the painful news in an interview.
Speaking further, She said "it's been hard on him because he doesn't understand what is going on and also on family members as well. We have gone through it over the past couple of years and we thank God.
"We have gone through some times and situations recently that I wish I had the old you here so I don't battle these times on my own but we are grateful for the moments of clarity. I miss the times we worked together", she added.
This has forced the veteran actor into early retirement. Joke got her husband an exquisite gift for his retirement, a brand new car to commiserate the occasion. The actor announces this on his social media page.
Also, read Pete Edochie's Biography.
Children
Joke Silva is blessed with three children – Dayo, Olusoji, and Olugbenga. Unfortunately, Dayo is deceased, he died at the age of ten due to health issues. Olusoji and Olugbenga are the only surviving children of the couple.
Joke Silva's Movies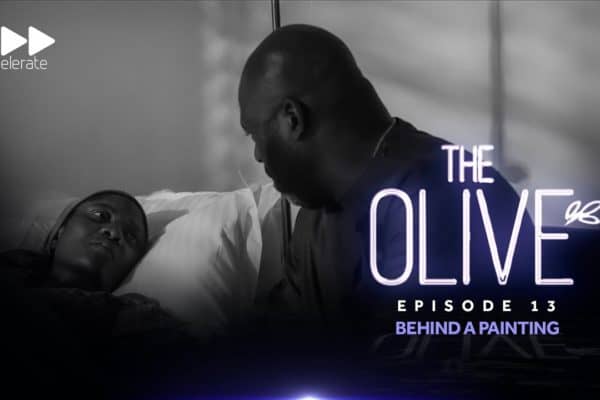 To enumerate, below are the selected movies the veteran actor had featured in:
The Kingmaker (2003)
Last Wedding (2004)
Women's Cot (2005)
Strong Men at Work (2007)
Letters to a Stranger (2007)
5 Apostles (2009)
Tango with Me (2010)
Bent Arrows (2010)
The Child (2010)
Married but Living Simple (2012)
One Fine Day (2015)
Timeless (2017)
Bandits (2018)
Kada River (2018)
Chief Daddy 1 (2018)
Diamonds in the Sky (2019)
The Set Up (2019)
Light in the Dark (2020)
Citation (2020)
Namaste Wahala (2021)
The Wait (2021)
The Olive (2021)
Chief Daddy 2 (2022)
Awards
The veteran actor is well decorated when it comes to awards and honors. To list, here are some of her awards.
Best Actress, Africa Movie Academy Award, 2006.
Best Actress, Africa Movie Academy Award, 2008.
She was honored as a Member of the Order of Federal Republic (MON), 2014.
Lifetime Achievement Award, Africa Movie Academy Award, 2016.
Best Actress, Africa Movie Academy Award, 2018.
She also received EMOTAN Award courtesy of Africa Independent Television and also SOLIDRA Award for Visual Art.
Endorsements
She is the brand ambassador for AIICO Pension Managers Limited. Also, she is an ambassador for United Nations on Drugs and Crime. She is given the role of an ambassador to kick against human trafficking in Nigeria.
In addition, she is the managing director of Malete Film Village which is in affiliation with Kwara State University.
Also, read Uche Nancy's Biography.
Businesses
Joke, together with her husband runs a company Lufodo Group of Companies under which we subsidiary companies of which one is a film academy – Lufodo Academy of Performing Arts.
The academy is established to train upcoming superstar actors and actresses on the rudiments and essentials needed to grow in the industry.
The other subsidiary companies – Lufodo Consult which trains individuals on the skills needed to boost corporate brands and Lufodo Distribution which is a distribution company that handles the distribution of media content.
Recently, the Lagos State Government handed over Glover Memorial to the couple's firm – Lufodo. The company in partnership with Ciuci Consulting will oversee the management affairs of the company.
Joke Silva Net Worth
Joke Silva's net worth is estimated to be worth $1.2 million. She gets her earnings from acting and a business that she co-owned with her husband.
Also, read Uju Okoli's Biography.
Social Media
Joke Silva is very much active on social media
Her Instagram handle is @ajokesilva with 814k followers. She is also on Twitter with the same handle with 40k followers on her verified account.
Summary of Joke Silva Age, Biography, Husband, and Net Worth
There is so much praise to go around from the majority of people in and out of the industry when the name Joke Silva is mentioned. She is hardworking and amazing on and offset with various accolades to attest to that.
Also, she is very supportive of the old and new actors and actresses. The likes of Ireti Doyle and Bimbo Akintola hold her in high esteem because of how she supported and encouraged them. Joke is truly one of the mother figures in the industry.
In addition, she is doing so well to keep the family business afloat with the help of her kids. She is indeed one of a kind.
We hope you found this piece about Joke Silva Age, Biography, Husband, and Net Worth interesting. If you did, kindly leave a comment and share it with your friends.
Before you go, read Bimbo Oshin's Biography.