Femi Osibona is a businessman who deals with real estate and property development. Read further for detailed information about Femi Osibona Net Worth and Biography.
Femi is a native of Ikene in Ogun state. He is one of the prominent real estate developers in Nigeria. He was born on the 1st of July, 1966.
Femi Osibona Net worth
The late real estate developer, Femi is estimated to be worth over 150 million dollars owing to his success in the real estate industry. He owns different properties across different countries.
| Femi Osibona Net worth and Biography | |
| --- | --- |
| Full Name | Femi Osibona |
| Date of Birth | July 1, 1966 |
| Died On | November 1, 2021 |
| Profession | Businessman |
| Net Worth | $150,000,000 |
| Place of Birth | Ogun, Nigeria |
| Education | Business and Finance (Croydon University, UK) |
| Number of Children | 4 |
Education
Femi had his primary education in Lagos before moving back to Ogun State for his secondary education. He attended Mayflower school, Ikene, Ogun state where he obtained his SSCE certificate.
Thereafter, he obtained his HND certificate in a polytechnic in Nigeria before traveling abroad to further his studies. He is a graduate of Business and Finance from Croydon University in the United Kingdom (UK).
Also, read Bimbo Ademoye's Biography.
Career
Femi did not venture into real estate at the beginning of his career. Initially, he was selling suits and shoes in London from 1991 to 1997. He was very successful in the business and had several clients in different parts of London.
However, he stopped the business when he made a profitable amount from selling a house he bought and developed. He sold his first house which was situated at 469A Cross Road for a huge price.
This opened his eyes to the world of real estate development, subsequently, he extends to Peckham where he bought lands and homes, develop them and sell them at high prices.
Furthermore, his sojourn in real estate development becomes profitable and this leads to the establishment of his company Four Score Homes where he is the chairman.
The company is a certified member of notable organizations such as the National Home Builders Registration Council (NHBRC) in South Africa and the Zurich Building Guarantee in Europe. In addition, the company has branches in South Africa, Nigeria, and London.
The company had developed hundreds of projects in London, South Africa, Atlanta, and Nigeria. The famous six luxuries units' apartments in Waterkloof, South Africa is one of the most beautiful projects developed by the company.
One of the notable achievements of Femi Osibona as a real estate developer is that he is the first African to develop and commission a seven-storey apartment in the United Kingdom located at 113, Albion Drive, London Fields, E8, 4LZ, East London.
Unfortunately, the company's latest project, 360 degree Towers was a disaster as one of the buildings collapsed claiming the lives of those present in the building including the life of Femi.
Family
The late renowned real estate developer was married and had four children.
Also, read Tompolo's Net Worth.
Collapsed Building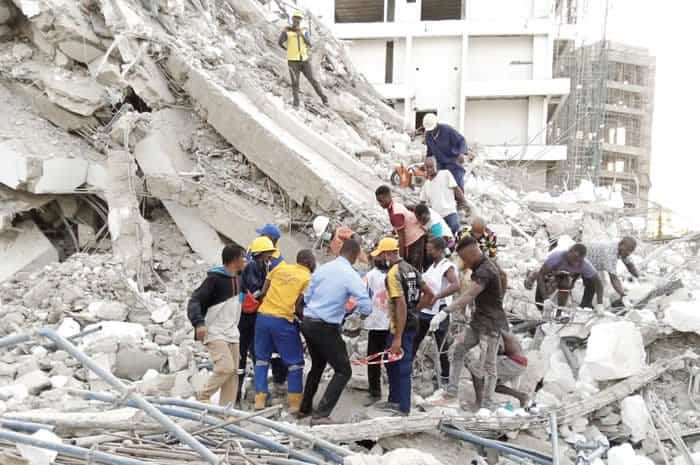 FourScores Homes Limited, the company of Femi Osibona embarked on a project, 360 Towers situated at Gerrad Road in Ikoyi, Lagos. The three buildings are high-rise buildings and a replica of the luxuries available in a 7-star Hotel.
The buildings are said to have a clubhouse, an open recreation area with an exceptional view, and optimal security. In addition, the three buildings have 420sqms each on three floors; a penthouse on two floors; and 4-bedroom flats on one floor.
Sadly, the project could not reach completion as one of the buildings – a 21-storey building out of the three buildings collapsed on November 1, 2021, claiming the lives of Femi Osibona, his friend, and some of his workers with the death toll count of 46 people.
Also, read Femi Falana's Biography.
Controversies
However, there are controversies about the construction of the building before the unfortunate incident. It is reported that part of the cause of the collapse was the recklessness on the part of Femi Osibona.
He gave the go-ahead despite concerns of Prowess Engineering Limited, a structural/civil engineering firm overseeing the project. They advised that the third building which collapsed could not go beyond four floors.
Femi Osibona neglected the suggestions and moved on with the initial plan, however, this made the aforementioned company part ways with Four Score Homes Limited on the project.
Also, back in 2020 before the eventful day of the collapse, the Lagos State Government had sealed the premises over suspicion of unlawful practices. Sadly, they could not follow through with their investigation as it was reported that Femi Osibona bought his way out.
An inquest is being carried out by the Lagos State Government as a six-man committee is set up to investigate the cause of the collapse which will determine what legal actions will be carried out.
However, this is not the first misfortune that had struck his business, he made it known to the public in one of his interviews that 4 flats out of his 20 flats of his property in Atlanta got damaged by fire. He tagged the incident as a blessing in disguise as the money he gained from insurance covered the loss.
Also, read Sanyeri's Net Worth.
Philanthropy
Femi Osibona has a heart of gold when it comes to helping the needy. He had offered scholarships to students at all levels of education. Also, he is a sponsor of Little Saints Orphanages' home.
He also has a tradition of cooking a sumptuous meal for orphans and widows around Lagos once every month. In addition, he donates to charity and non-governmental organizations helping their mission.
Family feud
After the demise of Femi, it came to the notice of the public that his brothers and wife were fighting for his properties. There were reports that his wife was denied access to one of his properties as the house has been sealed off by his brothers.
This leads to an exchange of threats and abuse between the two parties. However, the families of the late developer denied the allegation saying that such did not happen.
Summary of Femi Osibona Net Worth and Biography
Femi Osibona was a successful real estate developer and had made exploits in the industry. He made a fortune and a name for himself as one of Africa's prominent real estate developers.
In addition, Femi Osibona Net Worth is a whopping 150 million dollars.
He was a devoted Christian and a member of the Celestial Church of Christ. Unfortunately, his latest project was the architect of his death. He was among the causalities when his 21- story building in Ikoyi collapsed.
If you found this piece about Femi Osibona Net worth and biography interesting, kindly leave us a comment and share it with your friends.
Before you go, read Ned Nwoko's Biography.