Pastor Greg Locke is an American pastor, born in the city of Nashville, Tennessee. Read further for detailed information about Pastor Greg Locke Biography.
Pastor Greg Locke Biography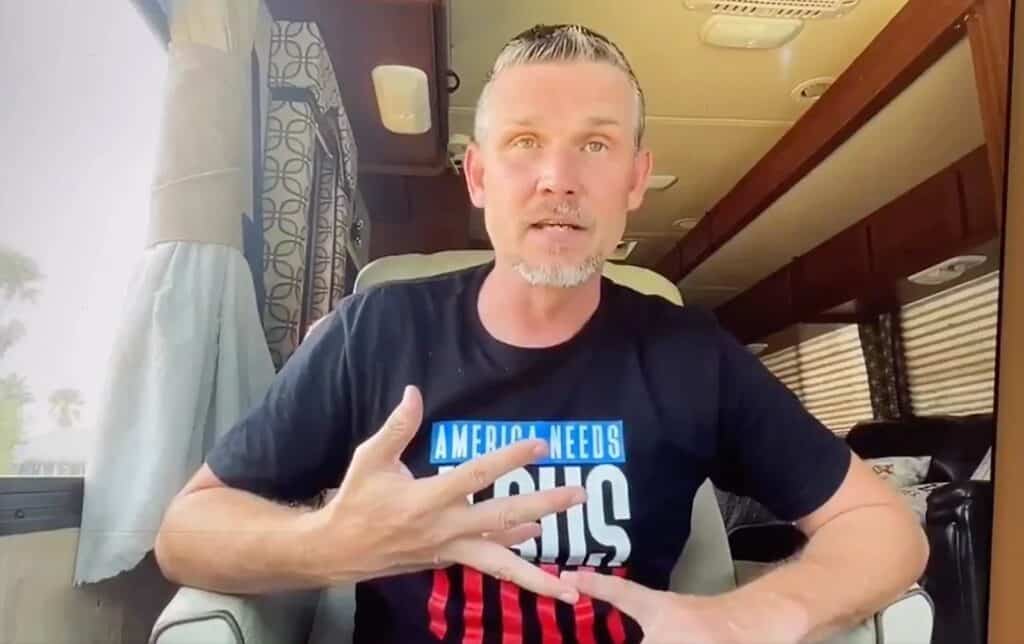 Pastor Greg Locke was born on May 18, 1976. He became a full-fledged Christian in 1992 as he was led to Christ by his grandparents. He is the founder of the popular Global Vision Bible Church located at Mount Juliet in Tennessee.
Pastor Greg Locke Biography
Full Name
Greg Locke
Date of Birth
18 May 1976
Age
46 (2022)
Known as
Pastor Greg Locke
Net Worth
$500,000
Wife
Taisha Cowan McGee
Education
Master's Degree in Revival History (Baptist Theological School of New England)
Graduate of Theology (Ambassador Baptist College)

Media
LockeMedia
Also, read Lekan Balogun Olubadan's Biography.
Education
He has a master's degree in Revival History from the Baptist Theological School of New England. In addition, he is also a graduate of Ambassador Baptist College where studied theology.
Ministry and Works
Greg is not only a pastor, he is a renowned speaker, author, evangelist, revivalist, social media influencer, podcaster, and entrepreneur. As mentioned earlier, he is the founder and lead pastor of Global Vision Bible Church, Mount Juliet, Tennessee.
Initially, the church was known as Global Impact Baptist Church before it was renamed. He is also the president of Greg Locke Ministries and a director of a Baptist College in Nigeria.
As a revivalist, Greg has traveled to different countries all over the world spreading the good news of the gospel and leading many to Christianity. The Pastor has worked tirelessly preaching and hosting crusades in the city and beyond.
He runs a weekly radio broadcast titled "Windows of Heaven" where he teaches about the word and promises of God.
Also, he runs a podcast "On Point" where he tackles issues concerning the political and religious world. Also, he is the convener of an annual conference tagged "Fire for the Future"
Furthermore, as an author, he has written three powerful books: Weapons of our Warfare (2021), and This means war (2020). Accessing your anointing: Understanding the power of the armor of God (2021).
Pastor Greg Locke Marriage
Pastor Greg is married to Taisha, who was his assistant. The marriage was a controversial one as he was accused by his first wife, Melissa of extra-marital affairs with his new wife. The 21 years of marriage with his first wife ended on this account.
The estranged couple had four kids together, with two of the kids being adopted. The accusations from his former wife left a big dent in his reputation as many frowned at this.
Consequently, he lost a chunk of his congregation and followers. Many called for his resignation as the lead pastor to which he refuses. In addition, he admitted to the public in an interview that his ex-wife was suffering from mental illness and has cooked up lies to deface him.
Also, read John Magufuli's Biography.
Interview about his Relationship
He disclosed this in an interview, in his words "She's been in and out of mental health facilities but that is not where she is right now.
She is at a place that helps ladies get on their feet again. The only reason why she is there is that the lady who runs it is like her grandmother, and so she's there. She's only there because of the comfort, the facts are she left. Melissa lived across town for two weeks.
She got on the bus and left. We've done everything. I've sent money. I'm supportive. I am in contact with caregivers on a regular basis. I'm getting updates … it's not for a lack of trying. This happened four months ago,"
However, he vowed to keep preaching against divorce despite the backlashes from people. In his words. "I still preach against divorce. I'm in a series right now in Ephesians, I'm encroaching on Chapter 5.
You know, I'm gonna have to preach about marriage. Husbands love your wives as Christ loves the Church, that's a difficult balance right now but I'm gonna have to learn to be a way better husband than I was the first go-round".
He went further to explain how he and his ex-wife are trying to solve their issues and remain the best of friends after their divorce.
Awards
He is honored as he was drafted to be among the WHO'S WHO OF EMERGING LEADERS in 2007. He is also a recipient of the WHO'S IS WHO IN AMERICA award for two consecutive years, 2005 and 2006.
Business
Greg runs a clothing line that sells unisex casual wear. Also, he is into the sales of juice shakers.
Also, read Umar M. Shareef's Biography.
Social Media
Greg is heavily present on social media and has a massive amount of followers. He is active on Facebook, Twitter, Tik-Tok, and Youtube. However, he is banned from Twitter for misinformation for his views on the use of masks and vaccines.
Pastor Greg Locke Net Worth
Greg is reportedly said to be worth $500,000. His source of income comes from public speaking, salaries from pastoral duties, authoring best-selling books, and his business.
Controversy
During the era of COVID 19 pandemic. Greg and his congregation were heavily criticized for their views and response to the situation. Greg charged his members not to wear masks as a preventive measure.
According to him, he was not buying into the idea as he believed that Covid-19 is a fake pandemic and the vaccine is nothing but a scam plot. These views sparked outrage among the public, consequently, his church was vandalized and graffiti with the message 'Your Lies Cost Lives' was painted across the walls and on his pulpit.
Furthermore, apart from his anti-vaccine views, he also holds conservative views about same-sex marriages and transgenderism. He is vocal about his opposition to the LGTBQ+ community.
He launched his news media, LockeMedia in 2020 through which he airs his conservative views and avoids censorship. Also, he was in the news for criticizing Target, a popular store for creating gender-neutral restrooms, and in the same vein applauded Colorado's Masterpiece Cakeshop for its refusal to cater for a gay wedding.
In addition, it is no news that Greg is famously known for his sermons against witchcraft and demons. Recently, he held a bonfire meeting to burn books suggesting or having witchcraft contents citing "Harry Potter and "Twilight as part of the books.
He instructed his members to discard or destroy tarot cards, adult fantasy books, movies, voodoo dolls, and crystals claiming they are tools for demons and occultism.
Also, read Major General Faruk Yahaya's Biography.
Summary of Pastor Greg Locke Biography, Marriage and Net Worth
To wrap it up, Greg is an accomplished pastor, he lives in Tennessee where his ministry is located. The Pastor re-married after he divorced his first wife. The separation and his new marriage are a major topic of scrutiny among his congregation.
Also, he is very vocal about his views on the left-wing ideology. He holds a strong position on witchcraft and exorcism as well. He is regarded as one of the controversial pastors in Tennessee.
We hope you found this piece about Pastor Greg Locke Biography interesting. If you did, kindly leave us a comment and share it with your friends.
Before you go, read Father Joe Carroll's Biography.