President Magufuli was the fifth president of Tanzania. Read further to uncover the full post on Tanzania President Magufuli Biography.
Also, he served as the president of Tanzania for six years (2015-2021). In addition, he functioned as the Minister of Transport, Communications, and Works.
Before we dive further into Tanzania President Magufuli Biography, below is a table of quick information about him.
John Pombe Joseph Magufuli Bio/Wiki
Full Name
John Pombe Joseph Magufuli
Died on
17th of March, 2021
Date of Birth
29th of October 1959
Net Worth
$5,000,000
Wife
Janeth Magufuli
Children
Suzan John Magufuli, Edna John Magufuli, Joseph John Magufuli, Jesca John Magufuli,
Ruth John Magufuli, Jurgen John Magufuli, Jeremiah John Magufuli, Juliana John Magufuli
Presidency
2015-2021
Tanzania President Magufuli Biography
President Magufuli whose full name is John Pombe Joseph Magufuli was the fifth elected president of Tanzania. He was born on the 29th of October 1959 in Northwestern Tanzania into a poor family. Magufuli grew up in a thatched house, looking after the cattle. He also sold fish and milk to support his family.
Furthermore, he started his education in 1967 at Chato Primary School and attended Katoke Seminary in Biharamulo for his secondary school education which he didn't finish there. In 1977, he further went to Lake Secondary School where he finished in 1981.
Subsequently, he proceeded to Mkwawa High School for advanced-level studies. Immediately after that, he joined Mkwawa College of Education. He went there for a Diploma in Education Science which majored in Education, Chemistry, and Mathematics.
In addition, Magufuli bagged a Bachelor of Science in Education degree and earned his master's and doctorate degrees in the University of Dar es Salaam.
Age

President Magufuli was birthed on the 29th of October 1959. He died in the year 2021, 17th of March at the age of 61 before he clocked 62.
Career

Magufuli had initially ventured into teaching in a secondary school. He taught at The Sengerema Secondary School in Chemistry and Mathematics but later quit.
Subsequently, he got employed as an industrial chemist at Nyanza Cooperative Union Limited. He worked there for six solid years. During those periods, he was into politics, at that point he got elected as Member of Parliament of Chato district.
Furthermore, Magufuli was promoted to a full ministerial position. He served as Minister of Lands and Human Settlement, Minister of Livestock and Fisheries, and Minister of Works.
Also, He was nominated as CCM's presidential candidate on the 12th of July for the 2015 election. Magufuli, despite all odds, was declared the winner by the National Electoral Commission (NEC) on the 29th of October, 2015. His running mate, Samia Suluhu became the Vice-president. Magufuli was sworn in on the 5th of November, 2015.
Also, read Patience Ozokwor Biography.
After his 4-years regime
Subsequently, after his four years regime, Magufuli was re-elected as the president which extended his regime until 2025 for a second term. Unfortunately, death cut it short.
Also, Magufuli was cited as a useful president whom everyone enjoyed during his period of rule. He amended some laws governing the country. Magufuli helped the country in gaining a reputation for being flag of convenience.
He also introduced free education without any payment for all government schools in 2016.
In addition, President Magufuli really cared about the health of the citizens. In the year 2016, Tanzania prohibited shisha smoking and the export of unprocessed ore. President Magufuli earned the nickname "The Bulldozer" referencing his roadworks project.
However, It was reported that Magufuli encouraged COVID-19 misinformation. He strictly spoke against closing churches and he insisted that Corona is a devil who does not want places of God to be opened. He was reportedly later dismissed from the national laboratory.
The distribution of Non-governmental information on the spread of the virus became a crime. Magufuli almost disapproved of the use of face masks but later made it known that only Tanzanian-made masks could be used.
Awards

President Magufuli in his lifetime was awarded in the Top Tanzania Assemblies of God in 2020. Also, he received an honorary doctorate award from the University of Dodoma for improving the economy of the country.
Tanzania President Magufuli Net Worth
There has been no fixed net worth of President Magufuli but he has an estimated net worth of $5million.
President Magufuli's Death

Magufuli was rumored to have stayed away from the public due to a chronic illness. It was later rumored that Magufuli had contracted COVID-19 and was hospitalized due to the struck of the illness
In addition, President Magufuli's Death was announced on the 17th of March 2021 by his vice-president Samia Suluhu. He was reported to have died at 6 pm at Emilio Mzena Memorial Hospital in Dar es Salaam where he was hospitalized. He was the first President of Tanzania to die in office.
Samia Suluhu disputed the fact that Magufuli had contracted COVID-19 but she stated he had suffered from atrial fibrillation, chronic heart disease for more than ten years. President Magufuli was buried on the 26th of March 2021 in his hometown of Chato.
Moving forward, we will read about President Magufuli's family.
Also, read Adeolu Adeboye's Biography.
President Magufuli's Wife and Children.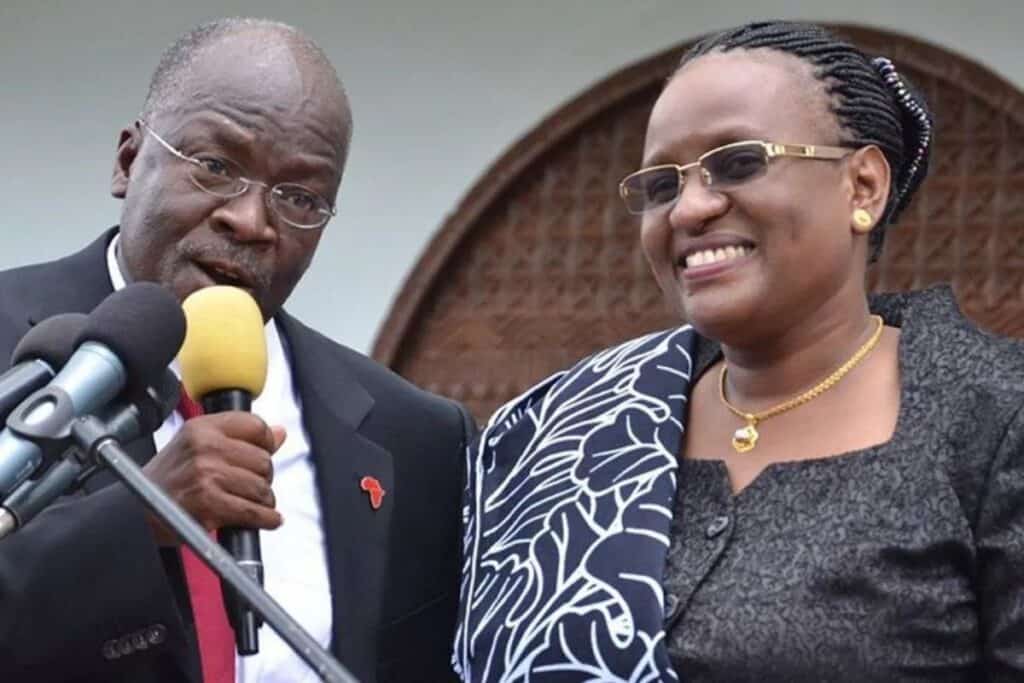 Janeth Magufuli is President Magufuli's legal wife. She was a primary school teacher. Janeth Magufuli birthed seven children for the President.
Furthermore, President Magufuli's family was kept secret for a long time and even the citizen he was governing knew not the exact children he had. Magufuli's children were found out to be seven at the State funeral.
The names of the seven children were read out and it was also stated that Magufuli had 10 grandchildren. His children are Suzan John Magufuli, Edna John Magufuli, Joseph John Magufuli, Jesca John Magufuli, Ruth John Magufuli, Jurgen John Magufuli, Jeremiah John Magufuli, and Juliana John Magufuli.
In addition, Three of President Magufuli are married while one of them, Juliana John Magufuli died while he was still a minister.
Summary of Former Tanzania President Magufuli Biography and Net Worth
John Magufuli was a Tanzanian president. He served as a minister for years before serving as president.
His wife was Janeth Magufuli and he had seven children. President Magufuli Net Worth is a whopping $5,000,000.
We hope you find this piece about Tanzania President Magufuli interesting. If you did, kindly leave us a comment and share it with your friends and family.
Before you go, read Ngozi Okonjo Iweala's Biography.