Oba Moshood Olalekan Ishola Balogun (Ali Okunmade II) is the newly installed Olubadan of Ibadan. Read further for detailed information about Lekan Balogun Otun Olubadan Age and Biography.
Oba Lekan was installed following the demise of King Saliu Adetunji, the former Olubadan who left the world on 2nd January 2022 after a brief illness.
Lekan Balogun is from Ali – Iwo Compound in Ibadan North East Local Government Area of the state.
Lekan Balogun Otun Olubadan Biography
The new monarch of Ibadan was born in October 1942. He was crowned the 42nd Olubadan of Ibadan on 11 March 2022 at Mapo Hall, Ibadan. He is the most senior chief and the next in line to be the next king after going through the required 34 stages from Mogaji to Otun.
Before we dive further into Lekan Balogun Otun Olubadan age and biography, below is a table of quick information about him.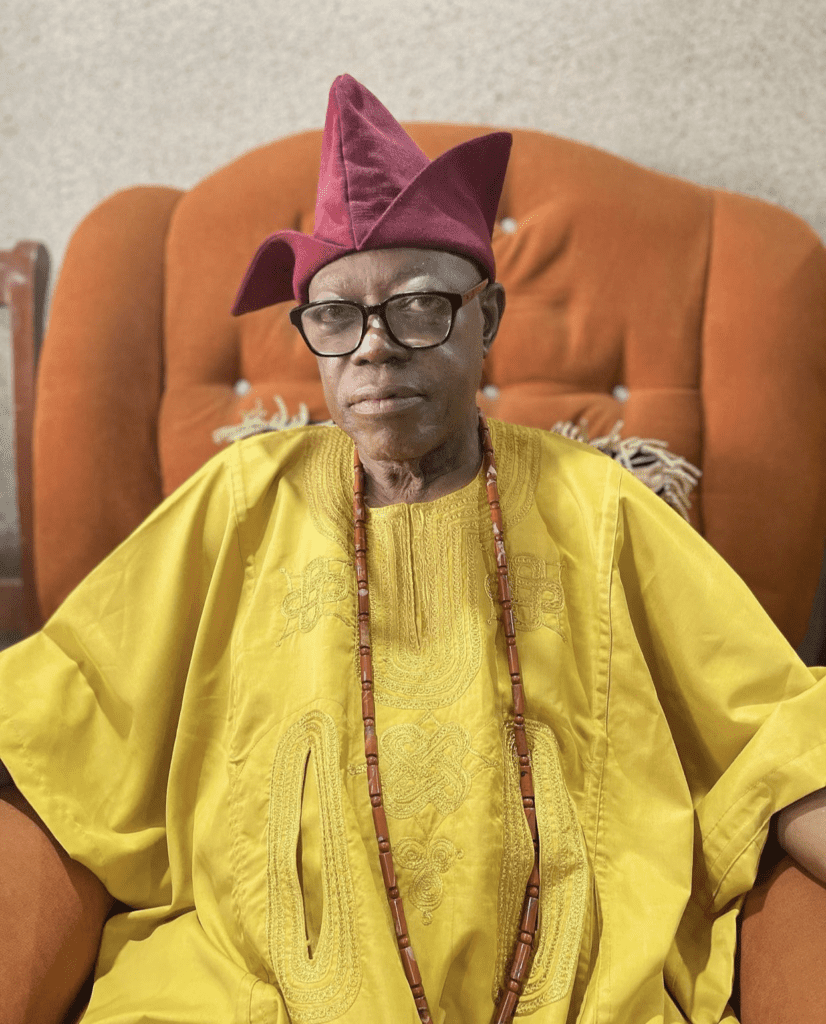 Lekan Balogun Otun Olubadan Profile
Full Name
Moshood Olalekan Ishola Balogun
A.K.A
Ali Okunmade II
Known as
Olubadan of Ibadan
Age
79
Date of Birth
October 1942
Education
M.SC in Administration and Economics
(Brunei University)
ph.D
Books
Nigeria: Social Justice or Doom
Power for Sale
Arrogance of Power
Date of Coronation
March 11, 2022
Lekan Balogun Otun Olubadan Age
At the time of writing, Oba Lekan Balogun is 79 years old. Balogun will be 80 years old in October 2022.
Also, read Ex-Tanzania President Magufuli's Biography.
Education
The monarch had his primary education at CAC Modern School, Anlugbua, Ibadan. He gained admission into Rapid Result College, UK. While he was squatting with his elder brother, he was an industrious and ardent reader.
Also, he made time to go through his late brother's correspondence tutorials who at the time was preparing for his examination on the General Certificate of Education, Ordinary Level (GCE O'L).
Eventually, this helped him get admission into Rapid Result College, UK as he passed the qualifying test. He obtained his O'Level Result from the school and proceed to University.
In 1973, he had a Master's degree in Administration and Economics from Brunei University.  Furthermore, he obtained a Ph.D. degree as well after working for a year and a half with Lambeth Local Government Social Services Department.
Career
Oba Lekan Moshood is many things among which is a public figure, politician, activist, businessman, philanthropist, author, and distinguished technocrat.
Also, read Ngozi Okonjo Iweala's Biography.
Political Career
He began his journey in the Nigerian political terrain in 1978. He was a member of the PRP founded by Late Aminu Kano. The King was an active and significant part of the party movement which made him rise in ranks. He became famously known for activism and was loved by the masses.
He was the gubernatorial candidate of the Nigerian People's Party (NPP) where Dr. Nnamdi Azikiwe was the founder. Also, he was also a presidential aspirant in the 1992-1993 presidential election.
Lekan aspired under the stable of the Social Democratic Party (SDP) and was a PDP gubernatorial candidate for the Oyo governorship election. Unfortunately, he lost in all the elections aforementioned and was subsequently inactive and away from the political scene after the December 1983 military coup.
However, he was back into politics after 16 years.  He was elected as Senator in 1999 representing the Oyo Central Senatorial district. Oba Lekan was the senator for four years, during his tenure he was the chairman of the Senate Committee on National Planning.
Also, he served as a member of Senate committees on appropriation, security, Police Affairs, and Defense (Army).
During the period of his journey to obtaining a Ph.D. degree, he carried out his research work at Ahmadu Bello University (ABU) Center for Social and Economic Research as a research fellow.
The new king lectured at the same university after he rejected the offer to lecture at Obafemi Awolowo University.
Furthermore, he also had the opportunity of working with Shell Petroleum Development Company and ended up as Head of Recruitment.
Also, read Public Administration Courses.
Companies
The new Olubadan currently sits onboard several multi-national companies involved in different fields. These fields include:
Oil and Gas.
Distributive Trade.
Management.
Consultancy.
Agriculture/Mechanized Farming.
Import and Export.
Also, he is a director with Triumph Newspaper at Kano, an Editor of the Nigerian Pathfinder – a monthly magazine. Ishola also is a consultant for companies like Leyland, Exiat Battery, and Nigeria Breweries on Management issues.
As an author, Oba Lekan has some publications and books which he has authored. Some of his works are:
A review of Nigeria's 4 years Development Plan, 1970 – 1974
Nigeria: Social Justice or Doom
Power for Sale
Arrogance of Power
Nigeria: The People must decide
Wives
Oba Olalekan is a polygamist, he is married to two wives as it is permitted by his religion as a Muslim. Information about the identity of his wives is not so much online.
However, we believe there will be some changes to that effect as they are in the limelight due to their husband's present status.
Family
There is not so much information about who the parents of the monarch are. However, we know that he has two brothers. His elder brother, Late Mr. Hamzat Balogun who was a civil servant, and his younger brother, Dr. Muhammed Kila Balogun, a doctor and a serving senator representing Oyo South Senatorial District in the National Assembly.
Also, read Bukky Wright's Biography.
Controversy
Oba Lekan Balogun was at loggerheads with his predecessor when he was still alive and ruling. The bone of contention centered on the action taken by Late Oba Saliu Adetunji by installing new village heads (Baale) and family heads (Mogaji) without consulting the Olubadan – in – Council.
This rift rocked the kingdom and was a major issue at the time. High Chief Lekan Balogun alongside a faction of high chiefs contests this decision. They accused the former Olubadan of running a one-man show and stopping to show support for the crowned king.
However, the crisis was halted by mediating parties, the late King and the embattled High chiefs reconciled and settled their differences. The High Chiefs in question tender apologies as demanded by King Saliu Adetunji.
Lekan Balogun Otun Olubadan Coronation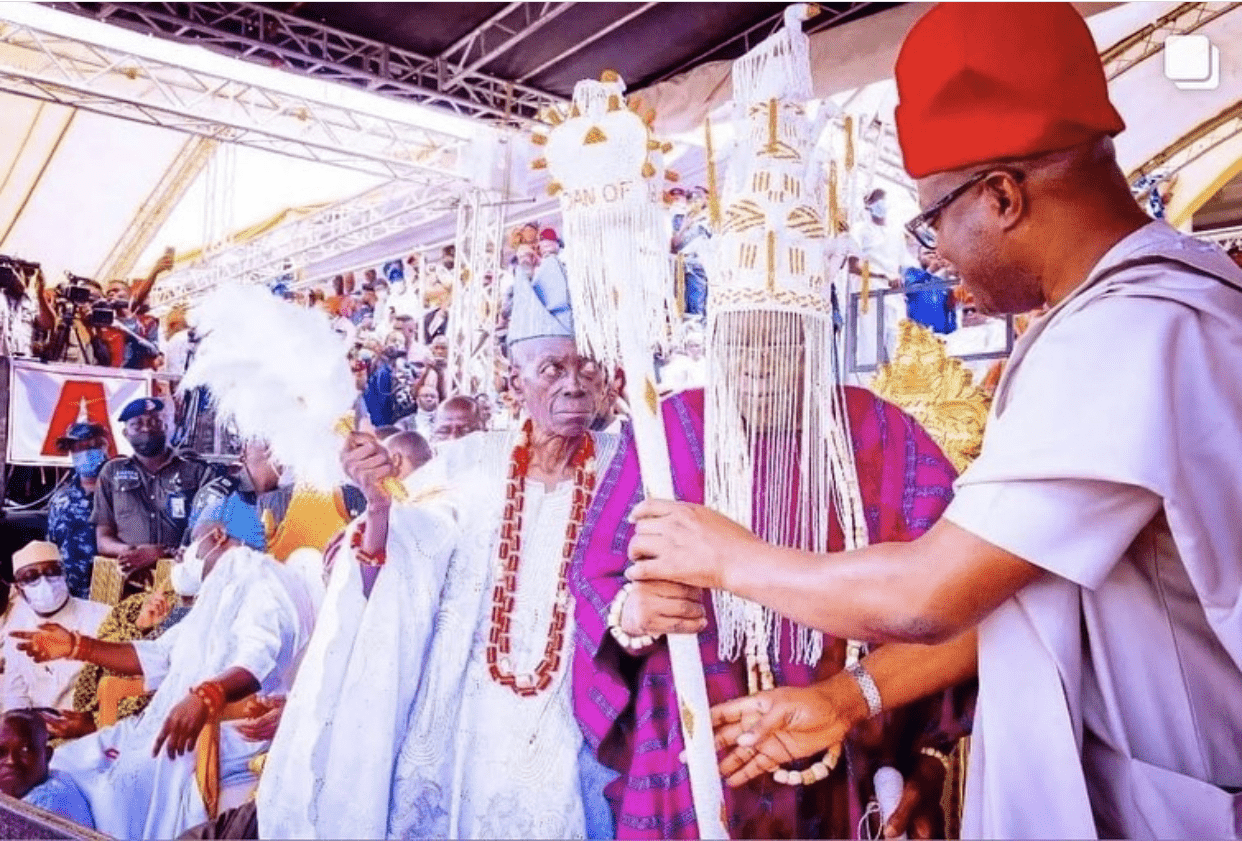 The coronation took place on March 11, 2022, at Mapo Hall Ibadan after the approval of the appointment of Oba Moshood Lekan Ishola Balogun by Governor Seyi Makinde.
Despite, allegations raised by Oyo ex-Attorney General, Mr. Michael Lana discrediting the qualifications of High Chief Lekan Balogun as the next Olubadan of Ibadan.
The coronation ceremony was magnificent and colorful as top dignitaries were present to celebrate the occasion with new elected King.
The list of the top dignitaries who graced the occasion includes
The Vice President of Nigeria, Prof. Yemi Osinbajo.
Former president, Atiku Abubakar.
Ooni of Ife, Oba Adeyeye Ogunwusi.
Alaafin of Oyo, Oba Lamidi Adeyemi.
The Governor of Oyo State, Seyi Makinde.
The Governor of Ekiti State, Kayode Fayemi.
Governor Dapo Abiodun of Ogun State.
Ex-Governors Rashidi Ladoja (Oyo).
Olusegun Mimiko (Ondo).
Deputy Governor Murphy Orimisan Ayedatiwa (Ondo).
Deputy Governor Benedict Alabi (Osun).
Ex-Deputy Governor, Otunba Femi Pedro, of Lagos State is representing the National Leader of the All Progressives Congress, Asiwaju Bola Ahmed Tinubu at the event.
Summary of Lekan Balogun Otun Olubadan Age, Biography and Coronation
The new Olubadan of Ibadan is 80 years old and was installed after the death of the former Olubadan. King Lekan had a lot going on before he became Olubadan. He had a successful career, wrote publications, and have companies.
We hope you found this article about Lekan Balogun Otun Olubadan Age, Biography, and Coronation interesting. If you did, kindly leave us a comment and share it with your friends.
Before you go, read Lateef Adedimeji's Biography.