Sunday Adeniyi Adeyemo best known as Sunday Igboho is an activist, entrepreneur, and politician. Read further for detailed information about Sunday Igboho Biography.
Sunday Igboho Biography
Sunday Igboho is from Oke Ogun, Oyo state. He was born on 10 October 1972.
Sunday is named the Akoni Odua of Yoruba Land due to his bravery and freedom fighting agenda for the Yorubas. He is believed to have metaphysical powers.
Sunday Igboho Bio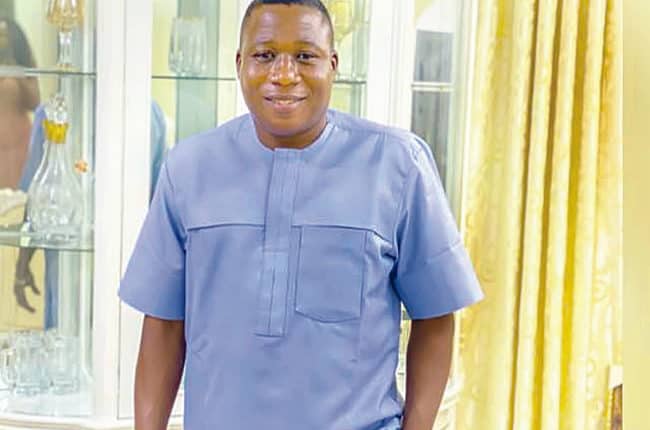 | Sunday Igboho Biography/Wiki | |
| --- | --- |
| Full Name | Sunday Adeniyi Adeyemo |
| Date of Birth | October 10, 1972 |
| Age | 49 |
| Place of Birth | Oyo, Nigeria |
| Date of Attack | 1st of July 2021 |
| Date of Arrest | 19, July 2021 |
Also, read Tompolo's Net Worth.
Education
He had his primary and secondary education in Igboho, his hometown in Oyo state. He had to stop schooling at Baptist High School when he relocated with his father to Modakeke in Osun state
Sunday Igboho was trained as a mechanic who repairs motorcycles (Okada) during his stay in Modakeke. Igboho made a living with the skill and was regarded as one of the best mechanics in the community.
Modakeke and Ife Clash
The clash between Ife and the Modakeke community started in 1997 and ended in 2000. The Modakeke community had appealed to the Government for their local government council.
However, their wish was granted despite the disagreement of the Ife people. The last straw that broke the camel's back was when the headquarters of the council was sited in Oke Igbo, Ife when it had been initially agreed that it will be in Modakeke.
This was a tough pill for the Modakeke People to swallow thereby leading to a full-blown war. This war led to the loss of lives of hundreds of people, destruction of properties and houses, unrest, and crime
Sunday Igboho As a Modakeke Warrior
Sunday Igboho had become a recognized member of the Modakeke community after spending his youthful days there. His nickname, Sunday Igboho was given to him by the members of the community. The name came by as a result of their hometown as many call his father "Baba Igboho" hence the name "Sunday Igboho".
During the war between Ife and Modakeke, many fled for their lives but not Sunday Igboho. He was present in the war helping the Modakeke people hold their ground.
During the early days of the war, he was a messenger for those fighting the war, he helped by bringing bullets to those who were at the war fronts. Later, he dared to hold a gun himself to help defend the land. Later, he had to lead a group of youth as well in the fight against the Ife.
However, the war came to an end when ex-President Olusegun Obasanjo assumed office. He organized a committee that addressed the demands of the two communities for peace to reign.
Aftermath the communal clash between Modakeke and Ife, there was a clash between the NURTW under the leadership of Double and Okada riders in the community.
Sunday Igboho was a close confidant of Double and was accused to be one of the major players in the chaos. It was gathered that he had to flee from Modakeke when his life was threatened by the youth of the community.
Also, read Abdulrasheed Bawa's Biography.
Sunday Igboho's Relocation to Ibadan
Sunday Igboho relocated to Ibadan after the crisis. He came into the limelight when he met Lam Adesina, an ex-governor of Oyo before working with Ladoja, also an ex-governor of the state.
Sunday was one of the protective shields of Ladoja amidst the battle he was facing during his campaign and tenure. Throughout Ladoje's impeachment and reinstatement, Sunday Igboho remained a loyalist and was virtually present in all his campaign tours and other events.
Allegations
There had been allegations against Sunday Igboho of political thuggery, smuggling, and land grabbing. However, he denied being involved in any of this. According to him, he said he only works with the rightful owners who had been overruled on their land properties.
Business
Sunday Igboho is a serial entrepreneur with multiple investments across the country. One of his major businesses is the buying and selling of automobiles. He is currently the chairman of Adeson International Concepts.
Houses
Sunday Igboho has several houses across Nigeria and abroad. He also has many land properties. However, he stays most time in his mansion in Soka, Ibadan. The house is a five-bedroom duplex with five chalets of two and three bedrooms.
Cars
Sunday Igboho has a quite number of exotic cars in his collection. Some of the cars in his garage are:
Rolls-Royce Ghost worth N100 million
Mercedes Benz G-Wagon worth N24 million
Mercedes Benz GLE worth N30 million
Ranger Rover SUV worth N 30 million
Also, read Femi Osibona's Biography.
Wife
Sunday Igboho has two wives who are not currently residing in the country. He has eleven children with his two wives, three of which are professional footballers in Germany.
Sunday Igboho and The Fulani
Sunday Igboho was in the limelight in 2021 when he challenged the Fulani community in Ibarapa, Oyo state when he gave them a seven-day ultimatum to vacate the community. This was a statement from him following the allegedly incessant killings and kidnappings of the Yorubas by the Fulani herdsmen.
The Governor of Oyo State, Seyi Makinde gave a directive warning Sunday Igboho of such actions which he ignored. This led to a clash between the Sunday Igboho and his boys with the Fulani Community with lives being lost and properties being destroyed.
This led to more support for the Oduduwa Republic, an agitation agenda for the secession of the southwest states. Sunday Igboho pushed forward with this trying to propagate the crusade across southwest states.
DSS Attack Sunday Igboho's House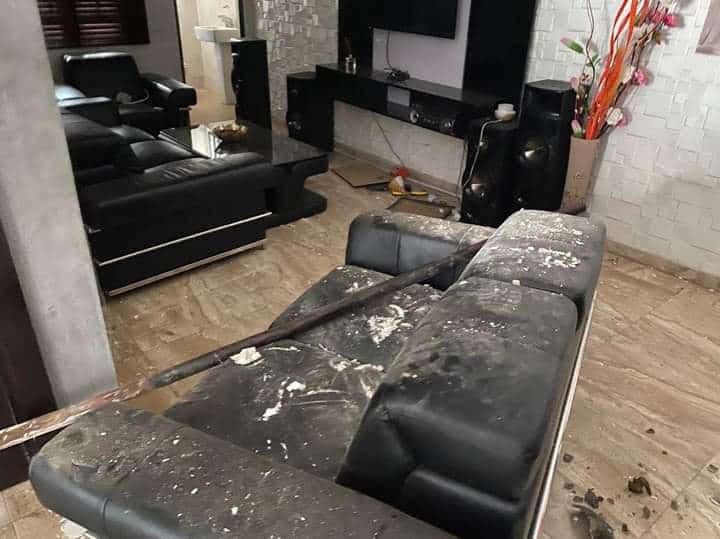 Sunday Igboho had been under the radar of the Nigeria Government and the Department of State Services(DSS) over his crusade for the Yoruba Nation.
This led to a DSS operation at his residence in Soka, Ibadan. This attack happened at midnight on the 1st of July 2021, leading to the destruction of his cars, and properties and the killing of two of his aides.
Unfortunately, the DSS failed to capture Sunday Igboho who escaped after a one-hour gun battle between the DSS operatives and his boys. However, thirteen suspects, 12 males, and 1 female were arrested and paraded at Abuja. The items recovered from the raid are listed below
AK-47 assault rifles
Pump-action guns
AK-47 Magazines
Cutlasses, Jack Knife and Pen Knife
Pistol holsters
Binoculars
Dollar bills
Walkie – Talkies
International Passport, Driver's License (Local and International), ATM cards, German Residence permit belonging to Sunday Igboho.
Voodoo Charm Jackets and amulets
Sunday Igboho through his lawyer sued the DSS for a sum of 500 million for damages done to his properties. He made it known that he is not an architect of chaos or choose to become one as accused by the DSS.
Sunday Igboho's Arrest
Sunday Igboho with his wife, Ropo was arrested at Cadjehoun Airport in Cotonou on 19, July 2021 while trying to leave Nigeria for Germany. He was arrested and remanded in the custody of the Benin Police authorities. He was released six months after based on medical grounds thanks to Professor Wole Soyinka and Professor Akintoye. However, he is not allowed to leave Benin until otherwise.
Summary of Sunday Igboho Biography
Sunday Igboho is a freedom fighter and one of the major voices of the Oduduwa Republic. He is a native of Oyo State but lived his youthful days in Modakeke in Osun state.
Sunday was part of those who fought in the communal clash between Modakeke and their neighbor, Ife. He is a successful businessman and has a strong connection with top politicians. At the moment, he is in the custody of the Beninese police authorities.
We hope you found this piece about Sunday Igboho Biography Informational. If you did, kindly leave us a comment and share it with your friends and family.
Before you go, read Christopher Alao-Akala Biography.