TLM Crypto is a cross-chain ERC-20 / BEP-20 / WAX fungible token referred to as Alien Worlds Trilium. It is a decentralized Metaverse that runs on the WAX, Binance Smart Chain, and Ethereum Blockchains. TLM's website is accessible at alienworlds.io.
More about TLM Crypto
TLM has its use in the gaming world where explorers stake it to participate in planetary elections voting. The Mission of the token as stated on its website is :
Lease Spacecrafts to send on missions across the Metaverse. Explore Missions, Discover NFTs
There's competition for Trilium among players as it is required to control competing Decentralized Autonomous Organizations ("Planet DAOs") and important to unlock additional gameplay. Players can acquire NFTs which are digital game items and use the acquired NFTs to mine TLM, participate in battles, and complete quests in the game.
Players can purchase NFTs in the Alien Worlds Metaverse and put them in an order that suits their gameplay. In addition, Players can influence the direction of the game by electing the Councillors of six Planet DAOs.
Key Metrics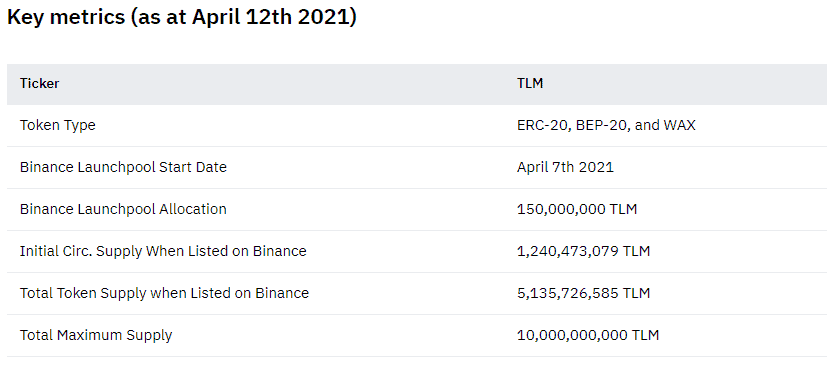 TLM Key metrics as of April 12th, 2021 as seen on Binance Research. Its Launchpool started on Binance on the 7th of April,2021 with an allocation of One Hundred and Fifty Million (150,000,000) TLM.
Its initial supply circulation was over 1.2 billion when it was listed on Binance while its total token supply was over a 5.1billion.
TLM's Total Maximum Supply is 10billion.
Also, read Cummies Crypto Facts.
TLM Crypto Game Basics
According to TLM's website, alienworlds.io TLM has 5 game basics which are:
Alien Worlds (TLM) is an NFT Metaverse in which playing is possible with unique digital items (NFTs).
Staking: Players stake Trilium to planets to cast their votes in the elections of the planets that are coming up, and also to maximize the Planet's reward pool.
Planet DAOs: Participation in every 7days election for council candidates, submission of proposals on how the planetary treasury will be distributed or contesting for planetary council yourself.
Game Cards Trading: NFT game cards can be traded by players for their strategy on Binance Smart Chain (BSC) and WAX, to be used for mining, fighting, and missions.
Cross-chain bridge: Teleporting TLM within BSC, WAX, and Ethereum.
TLM NFTs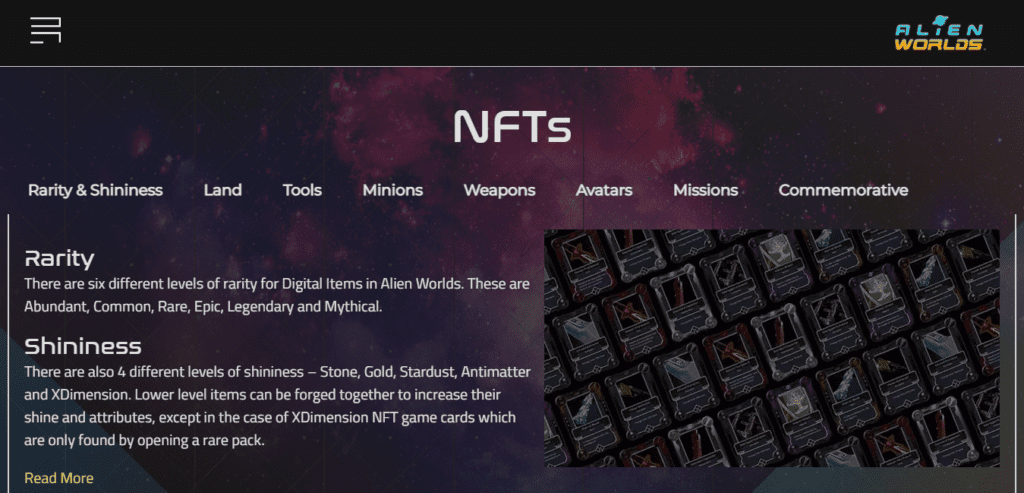 Alien Worlds Trilium has 9 non-fungible tokens according to their official website and they are listed below:
Rarity
This NFT possesses six different levels which are: "Abundant, Common, Rare, Epic, Legendary, and Mythical".
Shininess
This is another TLM NFT and it has four different levels which are: "Stone, Gold, Stardust, Antimatter, and XDimension".
Land
Land NFT is a series of NFTs which symbolize parcels of land on the planets in Alien Worlds. If you own land, you can either mine for yourself or charge a commission from others that mine on your land.
Also, read Google Adsense Operating System.
Tools
Tools are also an important NFT in Alien Worlds, to begin, players receive a shovel, but its mining power is limited. However, Players can find other tools in their adventures or luckily while mining. In addition, Up to 3 tools can be used at the same time.
Minions
Minions can either be used by communities in their own game. They are also the key NFT used in the fighting game.
Weapon
Weapon NFTs possess ratings, these ratings however can either be an attack or defend rating. They are used to battle other explorers in the game.
Avatars
Your Face During gameplay is represented with Avatar's NFT. You get to choose your preferred avatar for mining.
Missions
You Obtain Missions NFTs by playing missions in the game. These NFTs have 3 variables: "Crafting Key, Boost Power, and Base Power".
Commemorative
Commemorative NFT is listed as coming soon on the Alien Worlds Trilium website and we'll make an update once information is available.
This concludes the list of Alien Worlds NFTs.
TLM Use Cases
According to Binance Research, Trilium possesses the following Use Cases:
Planet Governance: TLM holders are allowed to stake TLM to guarantee participation in planets governance and other bonuses.
Staking: Players are opportuned to stake TLM on a preferred planet for TLM and other NFTs mining.
In-Game Currency: Players in the Alien Worlds require TLM to buy and upgrade items, and gain participation in battles, quests, and other activities.
Gameplay Incentives: Active Players are rewarded with TLM as they participate in activities.
Purchase NFTs: Players are able to purchase in-game items which are minted as NFTs with TLM, to mine more TLM and participate in other activities.
Read: Gartic Phone Online Essentials: Master the Art of Playing
TLM Exchanges
TLM is currently valued at $0.266149, it has its All-Time-High (ATH) on Binance at $5.95, ATH of $7.19 on Coinbase and its All-Time-Low at $0.0663.
According to Coinranking, TLM can be traded only on a few exchanges and the lists are provided below:
Binance
Gate.io
Nami
AEX
Bibox
CoinEx
Hotbit
HitBTC
With time, we hope that TLM will be listed on more exchanges.
TLM Markets
Complete List of 13 TLM Markets:
TLM/USDT – Binance
TLM/BUSD – Binance
TLM/BTC – Binance
TLM/TRY – Binance
TLM/USDT – Gate.io
TLM/ETH – Gate.io
TLM/USDT – Nami
TLM/USDT – AEX
TLM/USDT – CoinEx
TLM/USDT – Bibox
TLM/USDT – Hotbit
TLM/USD – HitBTC
TLM/BTC – HitBTC
We hope you found this article helpful and informative. Kindly share with your friends if you enjoyed it.
For Suggestions, comments, and questions, kindly use the comment box and we promise to respond promptly as possible.