Richard Mofe Damijo popularly known as RMD is a veteran actor, writer, filmmaker, lawyer, and businessman. Read further for detailed information about Richard Mofe Damijo Biography and Net Worth.
RMD (Richard Mofe Damijo) Biography
Richard Mofe Damijo was born on 6th July 1961 in Delta state and has featured in hundreds of Nollywood films and Tv series.
Richard Mofe Damijo Biography / Profile
Full Name
Richard Mofe Damijo
Popularly Known As
RMD
Born On
6 July 1961
Net Worth
$20,000,000
Wives
May Ellen (Late)
Jumobi Adegbesan
Movies
Seven (2019)
Unbreakable (2019)
Therapy (2020)
Fine Wine (2020)
Namaste Wahala (2021)
King of Boys (2021)
Christmas in Miami (2021)
Children
Brume Mofe-Damijo,
Kome Mofe-Damijo,
Nichole Mofe Damijo,
Tega Mofe-Damijo,
Efemena Titilayomi Mofe-Damijo
Also, read Broda Shaggi's Biography.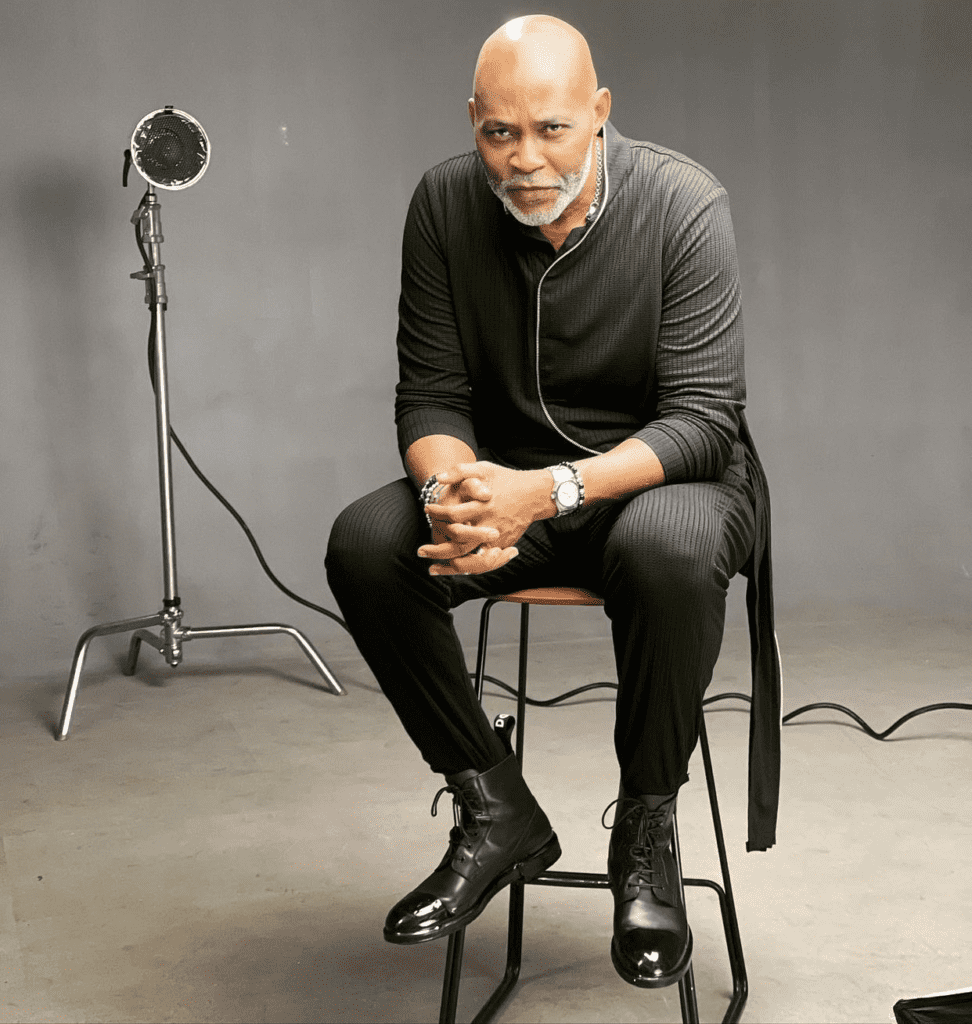 Education
Richard Mofe Damijo received his primary and secondary education in Delta state. He attended Midwest College for his secondary education but he did not complete it. He completed his secondary school studies at Anglican Grammar School, Delta State.
His acting skills were honed at Anglican Grammar School where he was a member of the Drama Group. He went further to study theatre arts at the University of Benin. Following his graduation from the University of Benin, he decided to pursue a degree in Law at the University of Lagos where he graduated with honors in 2004.
Career
Richard Mofe Damijo has been performing since he was a child. As previously said, he was a member of the Drama Group where he obtained performing skills. This provided him with a platform to grow and spurred his desire to act.
RMD began his acting career while still a student at the University of Lagos. He had featured in a number of movies but was not yet popular. He was in the limelight when he featured in the soap opera "Ripples" and went on to become the biggest actor in the industry.
The first movie produced by RMD was "out of bound" which was a major success. Before his breakthrough in the movie industry, RMD has worked as a reporter at Concord Newspapers, Metro Magazines, and The Guardian.
Filmography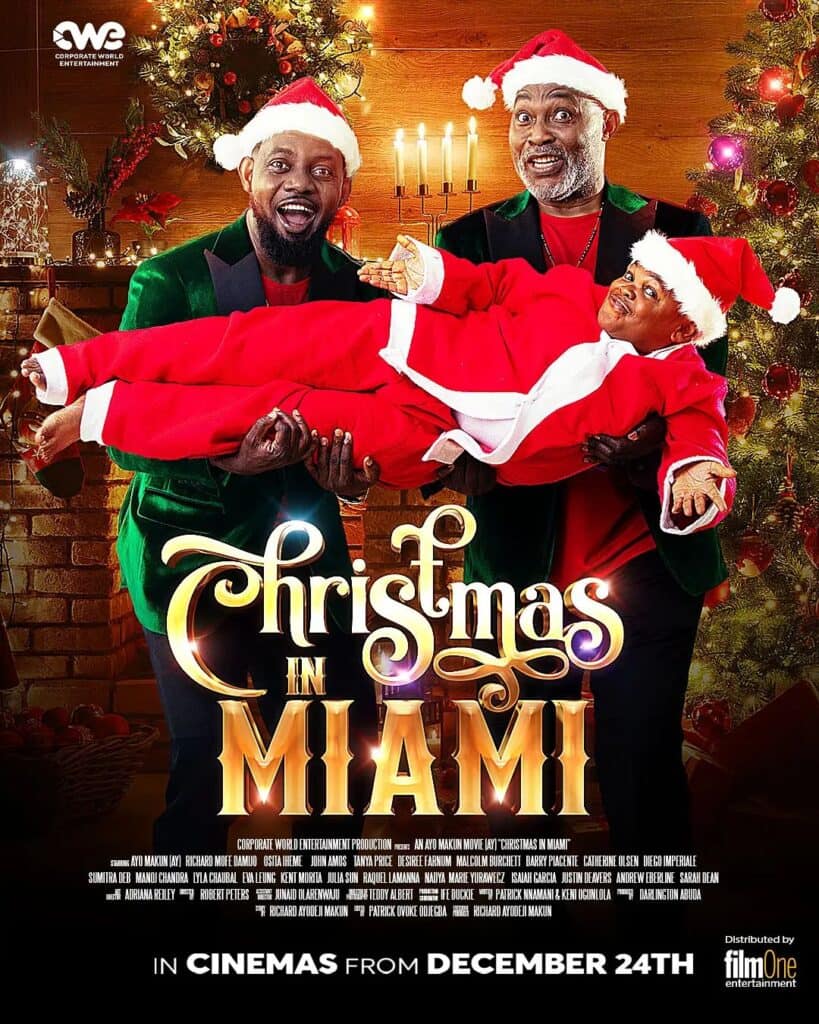 Highlighted below are some of the movies the veteran actor has featured in
Violated (1996)
Hostages (1997)
Suicide Mission (1998)
Scores to settle (1998)
The Price (1999)
Freedom (1999)
When God says yes (2003)
The return (2003)
True Romance (2004)
The Legend (2004)
Darkest Night (2005)
Behind Closed Doors (2005)
Caught in the Middle (2007)
30 days in Atlanta (2014)
Oloibiri (2015)
The Wedding Party (2016)
The Three Wise Men (2017)
Chief Daddy (2018)
God Calling (2018)
Seven (2019)
Unbreakable (2019)
Therapy (2020)
Fine Wine (2020)
Namaste Wahala (2021)
King of Boys (2021)
Christmas in Miami (2021)
Also, read Olu Jacob's Biography.
Awards
Without a doubt, RMD's career has been marked by success and greatness. He has a long record
of films in which he performed, directed, and produced earning him awards, acclaim, and a reputation. Among his many honors are the following
Africa Movie Academy Awards, Best Actor in a leading role, 2005
Best Nollywood Awards, Special Recognition Award, 2012
Africa Movie Award, Lifetime Achievement Award, 2016
Africa Movie Awards, Overall Best Actor in a leading role, 2018.
Political Appointment
Emmanuel Uduaghan, the former Governor of Delta, named RMD as the commissioner for culture and tourism in 2009. He was first appointed as a Special Adviser for the same role in 2008 before being promoted to commissioner.
First Wife
May Ellen was RMD's late wife. In 1996, she died as a result of complications from a fibroid surgical procedure. She had previously successful surgery, but the most recent one resulted in her death.
May had effectively built a reputable image for herself in the broadcasting sector and the media field as a whole during her brief time on Earth. She hosts the popular conversation show MEE and YOU, which airs on the NTA 5 channel. Also, she owns a publishing house, has written several books, and has produced a number of noteworthy magazines. She wrote a number of books, some of which are listed here.
Centerspread
Dream makers
Wind songs
Classique Magazine
In addition, She had two kids with RMD, a son and a daughter. She had no kids from her previous marriage as she was divorced before she was engaged to RMD.
She has a heart of gold and loves to give back to the community. Ellen set up Sunshine foundation as one of her channels to give back to the needy in the community.
Second Wife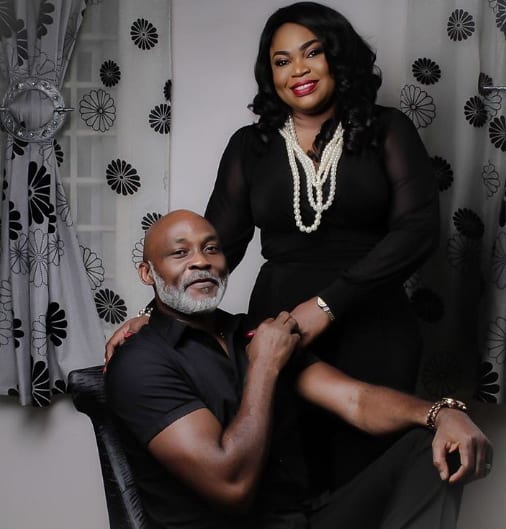 Four years after the demise of his first wife, RMD got married to Jumobi Adegbesan in 2000. The two had courted three years before walking down the aisle. They are happily married and have two children together.
Also, Jumobi has worked in the media as a presenter for Daar Communications. She was the host of the Lunch Break program in the 90s.
She resigned from her career after her marriage to RMD in order to start a new business and support her family.
RMD cherishes his wife whenever he gets the chance. He lauds her passion and commitment to their 22-year marriage. He attributed the marriage's success to her constant love for him and the family, as well as her sacrifice.
Apart from her passion for her family and her great work, Jumobi is a very quiet individual. Despite her husband's celebrity status, she is hardly seen in the spotlight.
Children
RMD has five children, two with his late wife and two with his present wife. There are rumors that RMD has a son before his marriage to May Ellen, his late wife.
The names of his children are:
Brume Mofe-Damijo
Brume is presumed to be the first son of the veteran actor who he had before marrying May Ellen, his first wife. There is no information about who he is mother is and what was the relationship between her and RMD.
However, Brume took to his social media page to Praise RMD on the father's day celebration which suggests that everything is cool between him and his father.
Also, Lekan Balogun's Biography.
Kome Mofe-Damijo
Kome is the first child in the marriage between May and RMD. In addition, Kome is happily married to Eniola and their union is blessed with two children.
Nichole Mofe Damijo
Nichole is the second child May Ellen had with RMD. RMD is proud of his daughter's great progress and does not hesitate to shower her with praise. She is very beautiful and successful in her choice of career. However, she is still single.
Tega Mofe-Damijo
Tega is the socialite of the family. Just like his father, he is full of swag. The young lad is 20 years old and currently studying at a university in the USA.
Efemena Titilayomi Mofe-Damijo
She is the youngest and not of place to say that she is Daddy's girl. RMD cherishes and always keeps her best interest at heart. In addition, he is very protective of her.
Business
RMD is a businessman that enjoys making investments. RMD Production, White Water Limited, and RMD Foundation is all founded by him.
RMDtvng and RMDtheactor are two of RMD Productions' subsidiary companies. The company was founded to provide original programming for television and radio. Trying and the Mr. X Family are two programs from RMD Productions' stable.
White Water Limited is a public relations and consulting firm.
Richard Mofe Damijo Net Worth
It is gathered that the veteran actor is worth $20 million. This is a result of his earnings from the movie industry, endorsement, and his businesses
Cars
RMD is known for his glamorous lifestyle. He owns some exotic cars to show how glamourous he is. These are some of the cars owned by the actor
Lexus LX 570
2014 Toyota Highlander
2016 Range Rover Sport
Mercedes Benz GLE
Toyota Land Cruiser
BMW 4 Series Coupe
Charity
RMD Foundation is a charitable organization established by RMD for humanitarian service as a gesture of giving back to the community and lifting people out of their misery
Summary of Richard Mofe Damijo Biography and Net Worth
In the Nollywood industry, RMD is a living legend. He is a fantastic actor, director, and filmmaker. He began acting at a young age and progressed to become one of the greatest in the business.
Also, he worked as a commissioner in the Delta state administration. Following the loss of his first wife, he remarried. Along with his lovely wife, Jumobi, he fathers five children. RMD Production Limited is his company, and he is the CEO.
We hope you found this piece about Richard Mofe Damijo Biography interesting. If you did, kindly leave us a comment and share.
Before you go, read Charles Soludo's Biography.