The name Olu Jacobs is a household name in Nollywood. Oludotun Baiyewu Jacob (known also as Olu Jacobs) is a Nigerian actor born on 11 July 1942. Read Olu Jacobs Biography, Net Worth, Wife, and Children.
Also, Olu Jacobs is a writer, scriptwriter, television broadcaster, and entrepreneur.
Before we dive further into Olu Jacobs Biography, let's read up some quick information about Olu Jacobs in the table below.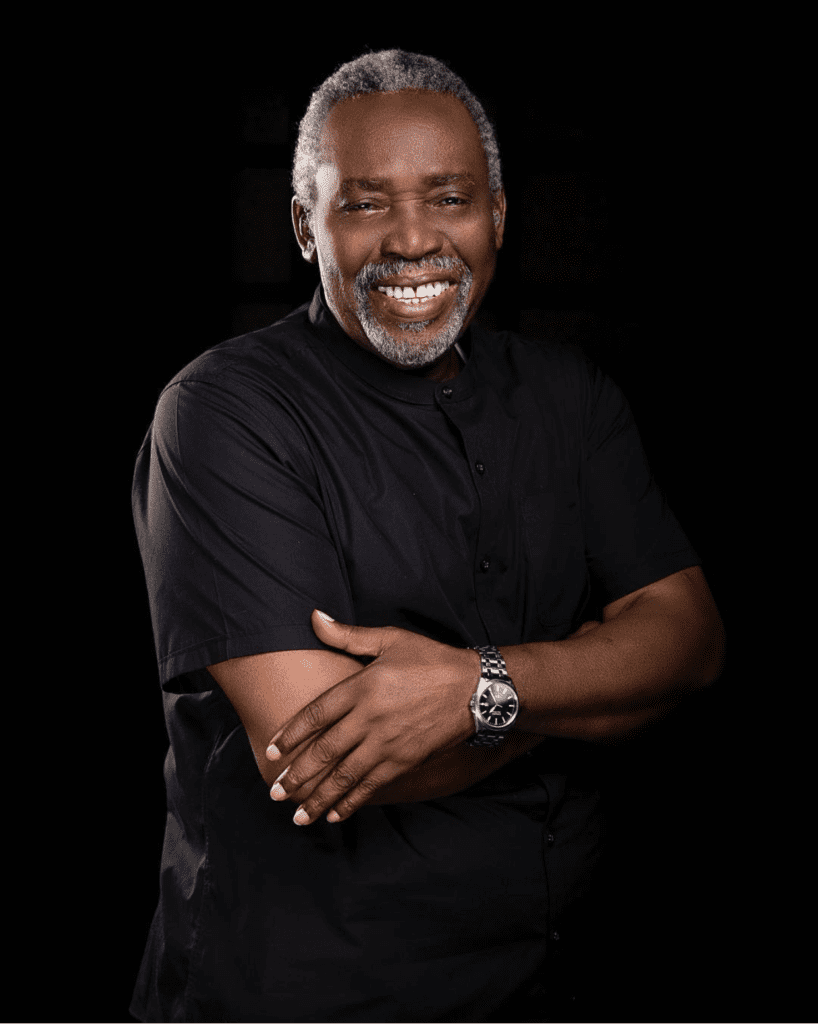 Full Name
Oludotun Baiyewu Jacob
Popularly known as
Olu Jacobs
Date of Birth
11th July 1942.
Age
79 (2022)
Wife
Ajoke Silva
Children
Dayo (Deceased),
Olusoji,
Olugbenga
Net Worth
$2,000,000
Place of Birth
Ogun, Nigeria
Education
Theatre Arts
(Royal Academy of Dramatic Arts (RADA)
Films
The Goodies,
Till Death do us part,
Barlow at Large,
The Venturers Angels
Olu Jacobs Biography
He was born in Abeokuta, Ogun State although he spent his childhood days in Kano. The actor is one of the pioneers of acting in Nigeria. He is also one of the most respected as well as one of the oldest actors in the industry.
Also, read Ali Nuhu's Biography.
Childhood and Education
Olu Jacob attended Holy Trinity School in Kano State for his primary education. He had a thing for acting right from his early days. Consequently, he became a member of the Drama Society in his school as well as a member of the Debate Society. He finished his secondary school in Lagos State.
He traveled to the United Kingdom to study Theatre Arts at the Royal Academy of Dramatic Arts (RADA) in 1964. This gave him the exposure and the opportunity to star in British television shows and series as well.
Career
His acting career began kick-started at the early age of 20. His first movie was, "The Vigilante". Afterward, he became a frequent face in movies and TV shows.
To enumerate, some of the movies he acted in the 1970s are: The Goodies, Till Death do us part, Barlow at Large, The Venturers Angels, 1990, The Tomorrow People, and The professionals.
Also, He acted in international movies viz: The Dogs of War, produced by John Irvin, Night and Day where he acted as President Mageeba, Roman Polanski, and The witches to mention a few.
Over the years he acted in close to 200 Nigeria Movies. Undeniably, Olu Jacob is part of those who revolutionize the Nollywood industry. He brought the exposure and experiences gathered over his last twenty years in England. He became a mentor figure and cleared the path for the upcoming actors who had an interest in the industry.
Awards
The journey of the veteran actor in the Nollywood industry has not been without recognition. His career is not short of accolades, honors, nominations, and awards. It is not of place to say he is a well-decorated maestro in the industry. Some of his awards include:
Africa Movie Academy Award for Best actor, 2007
Recognition and National Honors of Member of the Federal Republic (MFR) by former President Goodluck Jonathan, 2011
The Prix Charles Mensah outstanding lifetime achievement in Cameroon, 2011
Industry's Merit Award for outstanding achievements, Africa Magic Viewers Choice Awards, 2013
City People Movie Lifetime Achievement Award, 2015
Africa Movie Academy Award for Lifetime, 2016
Best Supporting Role for the Movie "Oloibiri" by African Movie Academy Awards, 2017
Lifetime Achievement Award at Africa International Film Festival, 2021
Also, read Jim Iyke's Net Worth.
Businesses
When it comes to achievements, there are so many to tag the veteran actor. He does not only conquer in acting but also does well in the business world.  
For the record, he is the head of Lufodo Company, co-owned and managed by his wife Joke Silva. The company has a group of companies under it of which one is a film academy – Lufodo Academy of Performing Arts.
The academy had done so well to train individuals to become superstar actors and actresses who are doing so well in the industry. He is also the CEO of Royal Practitioners – a body set up to train and equip movie professionals on the rudiments and essentials of the movie industry.
Furthermore, outside the movie industry, Olu Jacob has businesses in Real estate, a consultation company – Lufodo Consult, and Lufodo Distribution which is a distribution company that handles the distribution of media content.
Olu Jacobs Wife and Children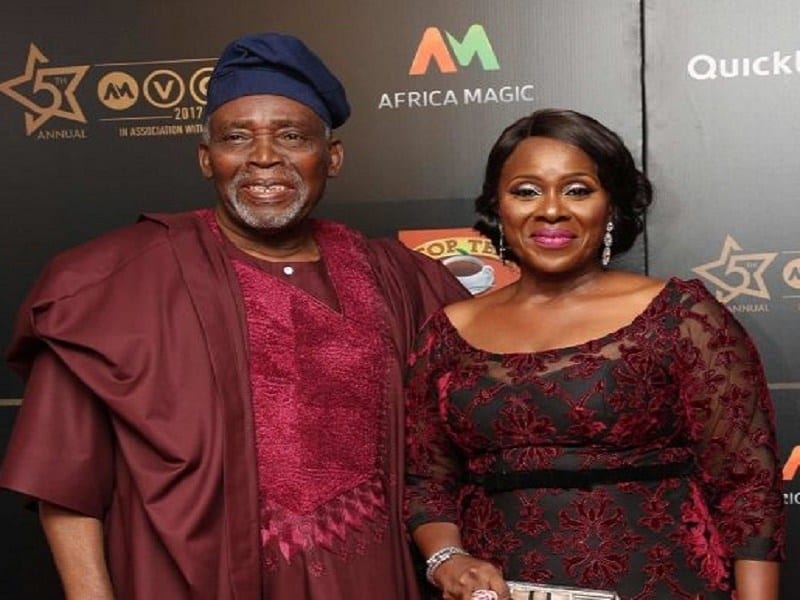 The veteran actor is married to the one and only glamourous Joke Silva who is also a superstar in the movie industry. The two got married in 1989 and the love is still waxing strong. The duo is a powerful couple in the industry with the two making exploits in the business and entertainment individually and together.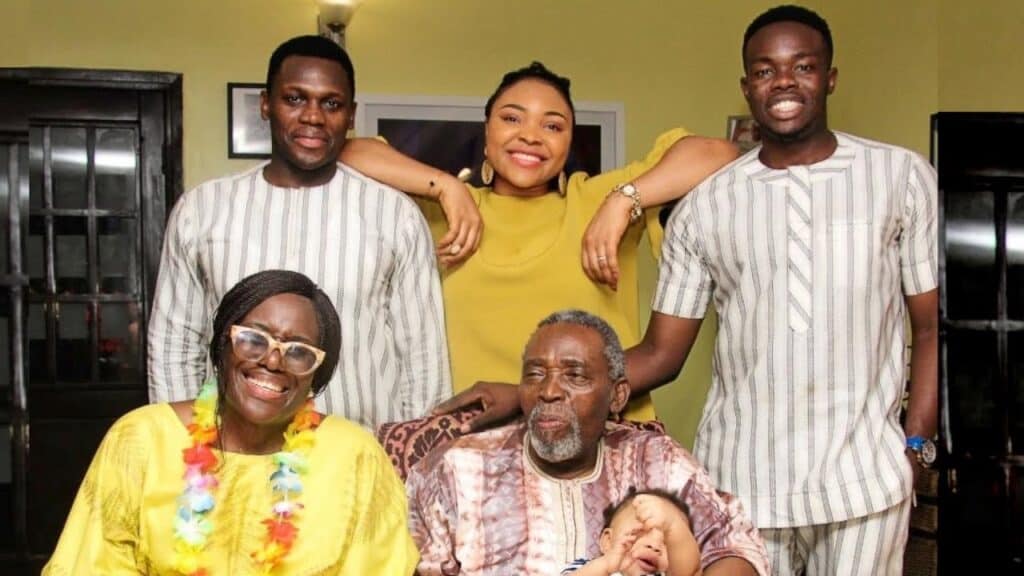 The union is blessed with three children – Dayo, Olusoji, and Olugbenga. Unfortunately, Dayo died after battling health issues at the age of ten. Olusoji and Olugbenga are the only surviving children of the couple.
However, it comes as a shock as his two sons chose different careers and none had for once venture into acting despite their famous careers on the big screen.
Family is a huge part of Olu Jacobs Biography.
Also, read Zubby Michael's Biography.
Olu Jacobs Net Worth
Olu Jacob is one of the influential personalities in the movie industry as well as one of the richest. He is estimated to be worth $2 million. His businesses and acting gigs do so well to make funds tripping his accounts.
Certainly, Olu Jacobs Net worth is huge and attributed to his successful career.
Olu Jacobs Sickness
The veteran actor over the years has aged considerably. This has limited his engagement in movies recently. In addition, to his old age, he is suffering from dementia with Lewy Body. His wife took to explain the situation of things.
In her words "He is dealing with issues and it has been going on for a couple of years. It is known as dementia with Lewy Body.
To explain further, it is a degenerative disease that affects the brain and it is almost like a Parkinson's type of disease, it affects the brain so you don't see the shaking. It affects the person," she said.
She added that "It is the first time I said that publicly. I knew that the time will come that it has to be known"
"It's been hard on him because he doesn't understand what is going on and also on family members as well. We have gone through it over the past couple of years and we thank God.
"We have gone through some times and situations recently that I wish I had the old you here so I don't battle these times on my own but we are grateful for the moment of clarity. I miss the times we worked together," she added.
Summary of Olu Jacobs Biography, Net Worth, Wife and Children
Olu Jacob has been a blessing to the Nollywood industry, his famous voice is a thing of joy to behold. He has done so well to lift others to the highest level in the game. It is a wonderful experience to share his journey with a beautiful and hardworking wife Joke Silva.
Undoubtedly, Olu Jacobs Net Worth is massive as a result of his huge success in all his career areas.
Too bad he is going through tough times due to his health. Despite that, we love and cherish the memories and legacies he had before the advent of the sickness.
We hope you found this article about Olu Jacobs Biography, Net worth, Wife, and Children interesting. If you did, kindly leave us a comment and share it with your friends.
Before you go, read Ned Nwoko's Biography.