Real Name
DeMario DeWayne White Jr.
Date of Birth
22nd of September, 1991
Height
5'11
Children
Trevante, Drey, Memphis, Tricario (males)
Hazel, Tracey, Donny, and Spring (females)
Occupation
Rapper
Girlfriend
Ariana Fletcher
Songs
Wockesha, Time Today
Cars
Mercedes-Maybach S-Class,
Mercedes-Maybach GLS,
Convertible Chevrolet Corvette C8.
Moneybagg Yo

DeMario DeWayne White Jr. famously referred to as Moneybagg Yo is an American rapper and songwriter.
Moneybagg Yo cars

Moneybagg Yo, like other celebrities, spends on luxury. He flaunted his sick collection of cars to mark his 30th birthday.
The Unique surprising element of his collection of cars is the styling. His cars are uniformly styled red with black stripes.
They also possess red-styled wheels and a black-painted roof.
Moneybagg boasts of over a million dollars in a car collection.
Moneybagg Yo cars include Mercedes-Maybach S-Class, the new Mercedes-Maybach GLS, and a convertible Chevrolet Corvette C8.
He asserts that he is the only one that possesses such cars, a Dodge Charger SRT Hellcat Redeye, a Cadillac Escalade, Jeep Grand Cherokee Trackhawk, Lamborghini Urus.
Moneybagg Age

DeMario DeWayne White Jr., 30 years old was born in South Memphis, Tennessee on the 22nd of September, 1991.
Moneybagg Yo Height
MoneyBagg Yo is 5 feet and 11 inches tall which is equivalent to 181 centimeters.
The rapper weighs 72 Kg (158.73 Lbs).
Moneybagg and Ari

The rapper dated Meghan Stallion, a popular singer for a short while in 2019.
The rapper is presently in a relationship with a popular model and Instagram influencer, Ariana Fletcher. She also co-founded the KYCHE Extensions hair company.
Ariana is from Chicago, Illinois.
There was word spread around blogs at a time hinting about the duo's fight in a bar after a couple of text exchanges between the couple on social media.
However, not long ago Ariana celebrated her boyfriend's 30th birthday by gifting him more than 28 acres of land which is a sign that there's a positive vibe in their relationship.
She posted a picture on her social page and in the caption, she wrote(paraphrased) :
"What do you buy someone that has everything? The gift that keeps on giving. I've purchased an income that'll last you for a lifetime, literally. Generational wealth! 28.8 acres BABY! I love you. Happy birthday ❤️ @moneybaggyo.
The couple is known for showering themselves with pricy gift items.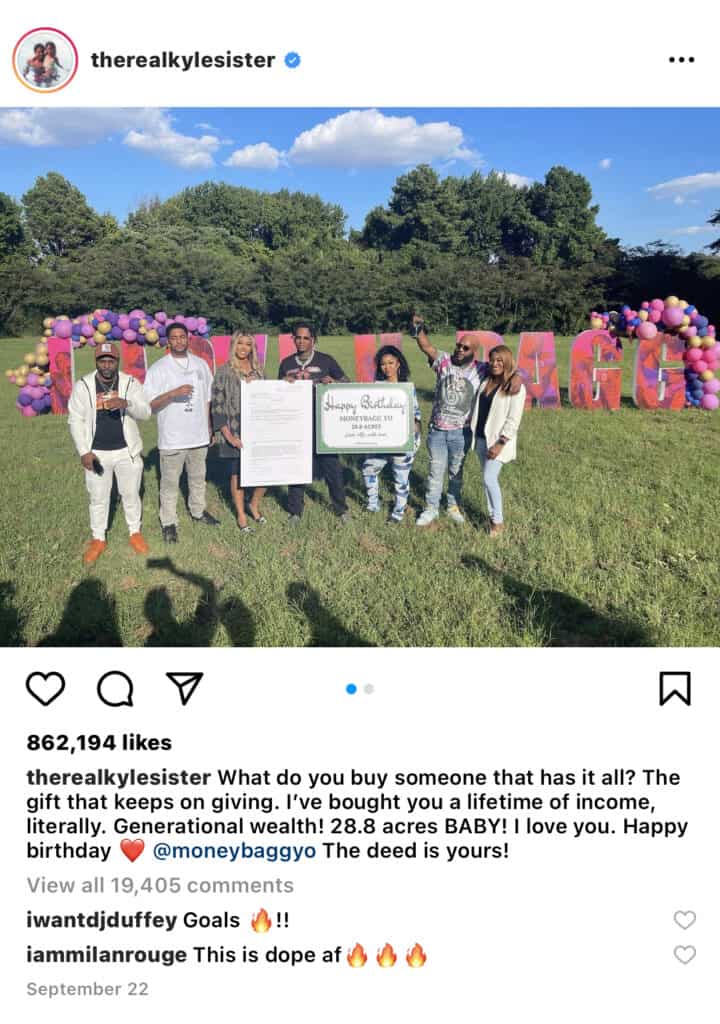 Moneybagg Yo Kids

Moneybagg Yo is a father of eight children, four males, and four females from four baby mamas. The names of his male children are Trevante, Drey, Memphis, Tricario while the names of his female children are Hazel, Tracey, Donny, and Spring.
Moneybagg has his family as his biggest inspiration. He made a decision to make music a priority because of his children and to give them the best life.
Moneybagg Yo's single Wockesha and Time Today
"Wockesha" is a single track in his newest album titled "A Gangsta'sPain", where he featured Ashanti and Lil Wayne and has been a big hit.
He dropped the official remix of the track, including a verse from Wayne plus a feature from Ashanti.
He used his single track titled "Time today" a massive hit on the album also to diss haters and rumor mongers.
In the lyrics of the song, he clearly was shading his haters.
Moneybagg Yo's concert

The rapper is on a national tour at present, traveling across 17 cities in the country. He held a homecoming concert not long after to honor his 30th birthday.