How Old is Kulture Kiari Cephus? What Day, Month and Year was she given birth to? These are questions that we hope to answer with this article. Kulture Kiari Cephus is Offset's and Cardi B's daughter.
Before we dive into her full Biography, a piece of Quick information about Kulture is provided in the table below.
| | |
| --- | --- |
| Full Name | Kulture Kiari Cephus |
| Age | 3 years(2021) |
| Date of Birth | July 10, 2018. |
| Nationality | American |
| Father | Offset ( Kiari Kendrell Cephus) |
| Mother | Cardi B (Belcalis Marlenis Almánzar) |
| State of Origin | Atlanta |
Kulture Kiari Cephus Bio
Kulture Kiari Cephus Biography
Young Celeb, Kulture Kiari Cephus is the daughter of two famous American Rappers, Offset whose real name is Kiari Kendrell Cephus, and Cardi B (whose real name is Belcalis Marlenis Almánzar). She was given birth on the 10th of July, 2018.
Kulture's Mother, Cardi B confirmed being pregnant with Kulture Kiari Cephus back in April 2018. She made it known that she was expecting a baby girl.
Kulture was given birth on a Tuesday and on the next day, Cardi B joyously announced her birth via her Instagram page. Cardi shared a nude photo of herself on Instagram, revealing her baby bump, and wrote in the caption:
Kulture Kiari Cephus 07/10/18?? @offsetyrn
Also, Cardi also made it known that Offset chose their Daughter's Name.
What is Kulture Kiari Cephus Age?
Born on Tuesday, 10th of July, 2018, Kulture Kiari Cephus's Age is 3. She'll turn 4 years old by July 10, 2022.
Also, Read Mercy Johnson Okojie Biography.
Childhood and Education
Kulture is just 3 years old and in her Childhood phase. She's American by birth and is being raised in her parents' house in Atlanta, Georgia. The family is a happy one and they often share pictures of their happy moments.
On the 10th of September, 2021, her page posted a picture of Kulture and in the caption, it was disclosed that it was her second day of school. The caption reads:
My second day of school ??
Further Information about her Education will be updated once it's verified.
It is important to point out that Kulture is a Child Celebrity, owing to the Popularity of her Parents. She has an Instagram page of her own which has amassed over 2.3 million followers while she follows only 4 people, her parents included.
Also, her zodiac sign is "Cancer" and as stated on her page, Kulture loves pink and her Instagram page is managed by her mother.
Now that we know about Kulture Kiari Cephus, let's talk about Kulture's mother, Cardi B.
Kulture Kiari Cephus Mother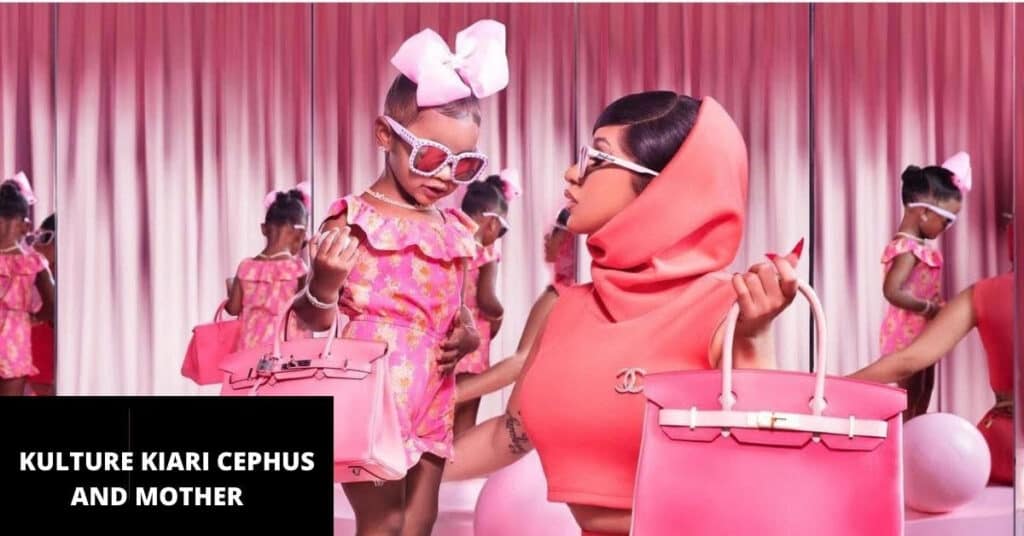 Famous American, Cardi B is the mother of Kulture, she is a popular rapper and known for her smooth lyrics. The famous female rapper was born in New York City, United States on the 11th of October 1992.
Cardi B Career
Cardi B's career began back in 2015. She started with the VH1 reality TV series, Love and Hip-hop. One year later, she left the show and geared fully toward Music.
It was then, in November 2015 that she released her first single which she titled "Boom Boom".
Since she dropped her first single, she has constantly dropped singles and albums. Further, in 2015, she released a single, titled "Cheap Ass Weave" and its music video in December.
Also, in 2016, she released a mixtape series "Gangsta Bitch Music" vol.1 which was also a big hit.
Her persistence, good sounds, and amazing lyrics have gained her a lot of popularity as well as raised her net worth exponentially.
Also, read Janemena's Biography.
Cardi B Net Worth
In addition to the fact that Cardi B makes good music, she also profits a lot from her music career. Her Net worth is currently estimated at $24,000,000.
Cardi earns an estimated amount of 1.2 million to 2.3 million on a yearly basis. Sources of her Income include her albums and music videos.
Since we know much about Kulture Kiari Cephus's Mother, let's learn about her father in the next section.
Kulture Kiari Cephus's Father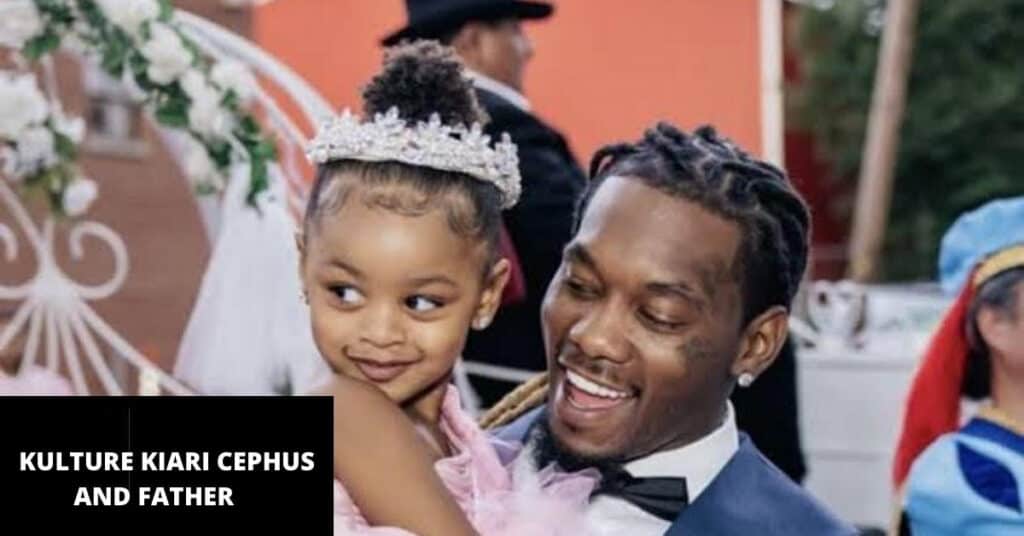 Just like her mother, Kulture's father is also a famous American Rapper. Kulture Kiari Cephus's father is Offset, whose real name is Kiari Kendrell Cephus. He is well-known to be one of the Migos trios from Lawrenceville, Georgia which was founded in 2008.
Offset (Kiari Kendrell Cephus) was born in Lawrenceville, Georgia on the 14th of December,1991. He is 30 years old (2021).
Offset had it pretty rough while growing up, his father left when he was young. He was raised by Quavo's mother who he grew up alongside Quavo and his nephew, Takeoff.
As discussed earlier, he is one of the Migos trios from Lawrenceville which was founded in 2008. Their hip-hop group was formerly named Polo Club before it was rebranded into Migos.
Migos released their first mixtape in 2011, it was titled "Juug Season" and didn't gather a massive hit like their first single "Versace" which they released in 2013 did.
Further, into the release of their first single "Versace", the song amassed massive hits and plays, making them very popular.
However, after their popularity, the Migos ran into a huge blockade in the year 2015 when the authorities stopped their show in April and arrested all three of them alongside people from their escort.
The star rapper was released later on the 4th of December after accepting a plea deal.
As we write this article, they are all back together and are doing fantastically well with their Net Worth growing exponentially than ever before.
Offset Net Worth
In a recent estimate, Offset's Net Worth is $26,000,000. Yes!, a whopping Twenty Six Million Dollars. His source of income, just like his wife, Cardi B includes albums and Music Videos.
Kulture Kiari Cephus Social Media
Young Celebrity, Kulture Kiari Cephus is active on Social Media, especially on Instagram which is managed by her mother, Cardi B according to her Instagram Page Bio.
As discussed above, she has over 2.3 million followers while she follows only 4 people which includes her parents.
Her Social Media Page can be found at @kulturekiari.
Final Notes on Kulture Kiari Cephus Age and Biography
Born into an Entertainment populated family, Kulture Kiari Cephus may decide to follow in her parent's footsteps and get into the Entertainment Industry.
She already is a young celebrity with over 2.3 million fans who are most of the time referred to as "Kulchies". We will make sure to provide an update on her career when she decides on what she wants to be.
We hope this article answered all your questions about Kulture Kiari Cephus, her Age, and her Biography.
Also, we hope that you enjoyed reading this article. Kindly share with your friends.
Before you go, you may also want to read Katia Washington's Biography.