Registration is Free
Entstoday Earn is a weekly contest organized for our viewers. The aim of Entstoday Earn is to help our viewers generate revenue as they read and share their favorite articles.
Entstoday Earn allows you to earn points to compete in the weekly contests when you share articles and refer people to register.
3 Winners are Selected Weekly. The winning is strictly based on points. The Highest point wins!. Points are calculated from referrals and views. We allocate 1 point for referrals and 0.5point for clicks.
We will present a token of N2,500 to the member that emerges as the first, N1,500 for the second member, and N1,000 for the second runner-up. These prizes will however increase as we proceed.
The next section of this post explains how you can begin and win every week.
How to Participate
These are the steps you need to take to participate in the Weekly contests:
Create an Account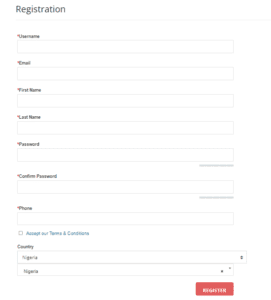 To participate, you need to create an account. Create an Account by clicking HERE. Fill out your Information correctly, Choose a Password and click on REGISTER.
Kindly Note: Your Username and Password will be used to log in. Please Note it down Carefully.
Copy your Shareable Link

After you have successfully signed up, you'll be redirected to your Account Page. You immediately become a participant.
From your Account Dashboard, Select Marketing and then select shareable links, scroll down and copy your link.
Begin to earn your points by copying your shareable link and sharing it with people. Getting Signups through your referral earns you points that put you ahead of other participants.
How to Earn Points
As we stated above, 1 referral = 1 Point and 1 click = 0.5 Points.
Referrals
Referrals for signup carry the heaviest weight, 1 point is awarded for a successful registration through your referral link. You can easily grab your link from your Dashboard which can be accessed HERE. Once you're in your Dashboard, click on Marketing, select shareable Links and you will get your shareable link.
Clicks

Clicks are also deciding factors when choosing winners. A click gives a participant 0.5 points. Points are earned with clicks when you copy a post link the link to a post on our website, paste it into the Link Generator and get your shareable link for clicks.
The Link generator is found just below where you copied your shareable link!
A view from one person for a generated link is counted only once. If you want to earn multiple points for clicks, generate links for different posts on the website (we currently have over 70 posts) and share. The more posts you share, the more your points for clicks increase.
How Winners are Decided
Winners of the Contest are selected on a weekly basis. If you scroll down to the bottom of your Account Dashboard, you will find the leading users by referral and by clicks.
A leading user in the referral may not emerge as the winner if someone beats him/her by a wide margin in the clicks section. Let's explain this with an illustration.
Say we have two users, A and B. User A has a total referral of 100, i.e 100 points, and a total click of 10, i.e 5 points. User B has a total referral of 50, i.e 50 points, and has a total click of 200, i.e 100 points.
Consequently, User A has an overall total of 105 points and User B has an overall total of 150 points. In this case, User B emerges as the winner of the week.
The deciding factors are very transparent to our users, everyone can see the top 5 users in their Account Dashboards.
How Payments are Made
The Winners for the week are selected every Sunday at 9 pm West African Time and announced at 9 A.M on Mondays via our Social Media Platforms.
Payments are sent to the winners via Bank Transfer. Each user is expected to fill out their Bank Account Details ( Account Number, Bank Name, and Owner's Name).
Receipts for these payments are also posted on our Social Media Pages, and we appreciate it when the winners acknowledge the payments by commenting.
Follow Us on Social Media