Before we discuss Angel Big Brother Naija Age, Net Worth, Cars, and Biography in full, let's take a look at Angel BBN's quick facts. Her Real Name, Age, Nationality, Place of Birth, Marital status, Year of birth, cars, and occupation are given in the table below.
| | |
| --- | --- |
| Real Name | Angel Agnes Smith |
| | |
| Age | 21 (2021) |
| | |
| Nationality | Nigerian |
| | |
| Place of Birth | Akwa Ibom |
| | |
| Marital Status | Single |
| | |
| Year of Birth | 2000 |
| | |
| Cars | Range Rover |
| | |
| Occupation | Poet/ Writer |
| | |
Angel Big Brother Naija Wiki/ Bio
Now that we know quick facts about our fav, let's dive into details about Big Brother Naija's Angel. The next section talks about her Biography.
Angel Big Brother Naija Biography
Angel Big Brother Naija's real name is Angel Agnes Smith, she was born in the year 2000 and is 21 years old as of the publish date of this article. Her birth month and birthday are yet to be revealed and will be updated once it is confirmed.
She is the daughter of London-Based Nigerian Parents, her state of origin is Akwa Ibom. She disclosed that she grew up in Lagos and enjoyed life there in Lagos.
Education
Angel's Education is filled with lots of experiences. Young Smith was pressured by her parents, especially her mother, who has exceptionally high standards.
Also, she disclosed that she faced more pressure from her the school she attended and this took a toll on her educational performance. She concluded her primary and secondary school education in Lagos.
Angel attend Marywood Girls College in Lagos which is known for their exceptionally high standard of education. Angel herself disclosed that to get an "A" in school, you have to get a score of 96.
UNILAG
After her secondary school education, she was admitted to the University of Lagos (UNILAG). Angel maintained her studentship status for about two weeks.
However, she made it known that she did not attend any lectures during that short period of time. She dropped out of UNILAG when she couldn't handle the pressure. This was done without the consent of her parents.
Agnes then decided to give Education another shot and enrolled in Mass Communication at a British Foundation College but decided to drop out again.
She stopped her education at the secondary level and hasn't made any declaration of intention to further.
Also, read Cubana Chief Priest Hotel, Net Worth, Cars, and Full Biography.
Career
BBNaija Angel has always loved writing and poetry. This was confirmed when she said in the Big Brother Naija house that she would start a mental health blog as soon as she's out of the house.
Also, She began to write when she was 14 years of age, she had fallen in love with the act since then. She disclosed that she took on freelance writing gigs to improve her writing skills.
Angel shared some of the personal books she wrote on Instagram and the posts generated massive engagement from her fans.
After the Big Brother Naija show, Angel has gathered over 880,000 followers on Instagram and has engaged her audience with quality content. Her content and engagement have attracted a lot of Brands and she has signed ambassadorial deals with some of those brands.
First Magazine Appearance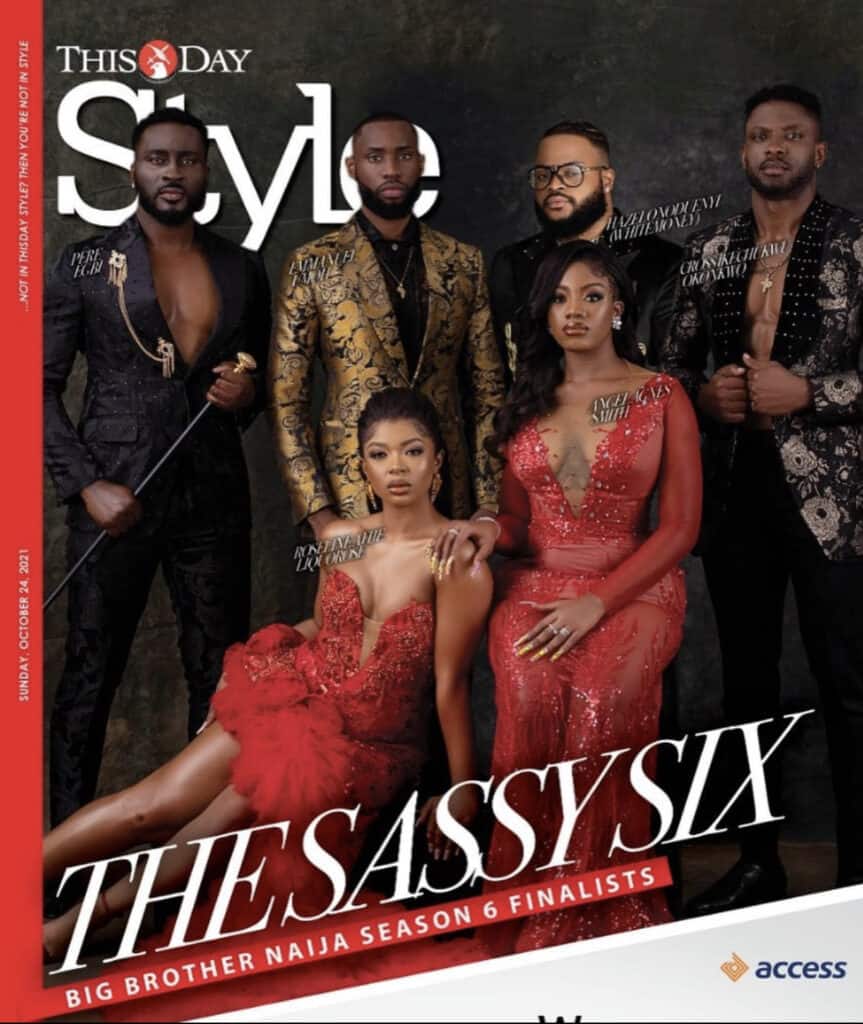 Angel had her first magazine appearance on the 24th of October,2021. She alongside her other finalist housemates ( Liqourose, Pere, Whitemoney, Cross, and Emmanuel) appeared on the cover of This Day Style magazine. They were given the title "The Sassy Six".
Before the appearance, she posted a picture on Instagram, and in the captioned, she said if someone had told her earlier that she would be on the cover of a magazine, she would have laughed and rolled her eyes because she thought she would amount to nothing.
Angel was happy about this and made a comment "Ion This Day Style's post on Instagram. She wrote:
"It was amazing working on set. Grateful that I was granted this opportunity and a big shoutout to everyone that worked on this"
Ambassadorial Deals
Amongst all the Ambassadorial deals the celebrity has signed, she only made her ambassadorial deal with Jenny's Glow Skincare public. She made a post on her Instagram page on November 12, 2021, which contained a picture of herself while she signed Jenny's Glow Skincare's Ambassadorial Deal and the caption :
"Still excited about my @jennysglownigeria ambassadorial deal".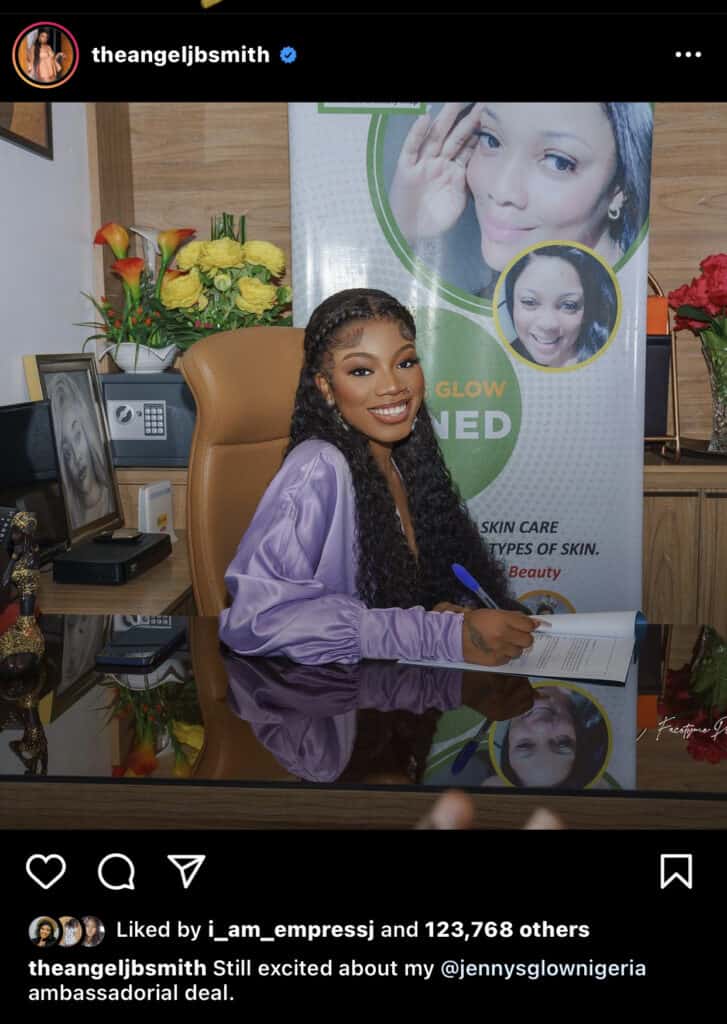 The young big brother Naija celebrity also frequently models Getfit Ng's products which has sparked assumptions that she's an ambassador of Getfit Ng as well.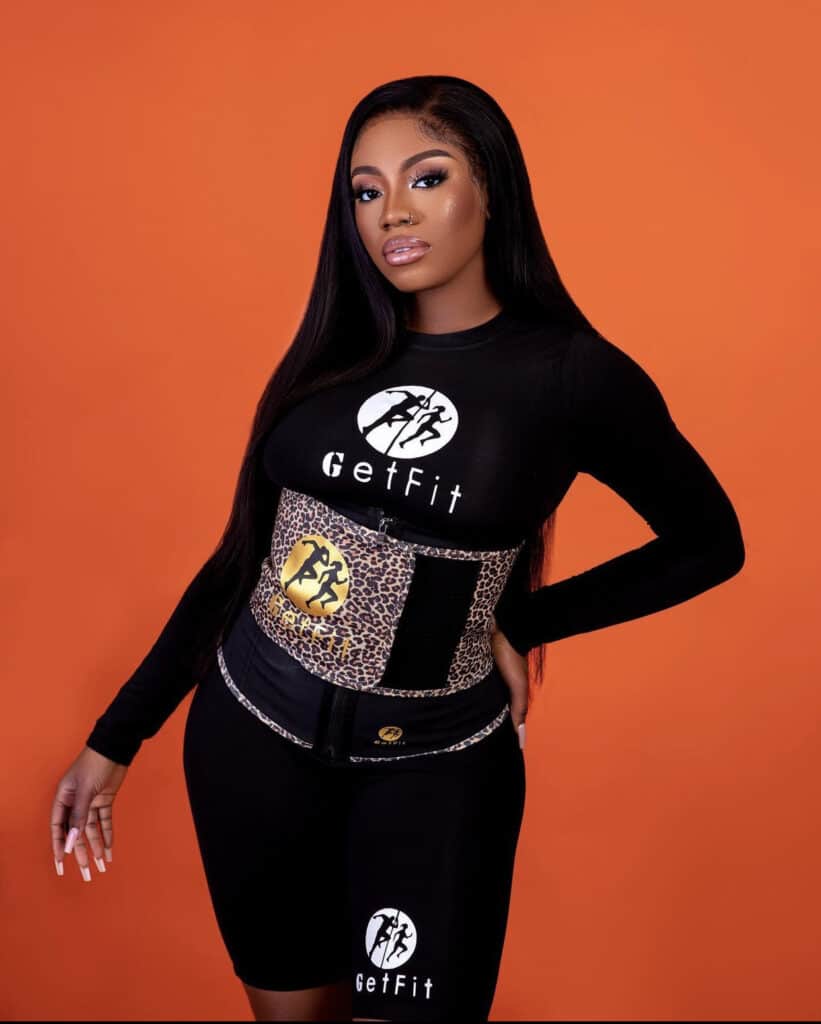 Angel Big Brother Naija's Mental Health Blog
BBNaija's Angel disclosed in the Big Brother House that she intends to start a Mental Health blog. She intends to publish contents that encourage depressed people because she was a victim of depression. Her struggles with depression are discussed in the next section.
Backing her promise of starting a mental health blog after her exit from the Big Brother Naija House, Angel shared a photo on World Mental Health Day, she shared a designed photo that contained the link of her proposed blog URL "www.theangeljbsmith.com". In the caption of the photo, she made it known that world mental health is and will always be special to her.
Angel further said that the mind has a weird way of working when you're struggling mentally. Below is the full caption from her Instagram Post on World Mental Health Day.
Angel's Post on World's Mental Health Day
today is world mental health day and this day will always be special to me. The mind has a weird way of working when you're struggling mentally, the self doubt, the need to simply not do anything, the hyper awareness, the fear, the anxiety, the constant questioning. As someone who has had her own fair share of struggles mentally I'm here to validate all of us.

Healing doesn't happen in one day, some days you won't be okay and some days you will be and that's okay, some days you will struggle, some days you won't understand what you're feeling and that's okay, some days you'll feel scared and alone and like the world is about to close in on you but guess what? That's okay. So here's to all the survivors, we're all so beautiful even with the pain we carry and because we carry it easily doesn't mean it isn't heavy and even in our vulnerability, we are so strong.

Here's to all the anotis, the ones who are fighting and the ones who died fighting, e no matter how many times we fall, how we wan take die? And remember for growth to happen, death must take place at a certain place and a certain time.
We're doing amazing, so take time to say after me; I am valid, I am connected to everything that connects me to this earth, I am grounded and I am sane.
The Blog however isn't operational yet and we're sure we will all be informed when it begins to function.
Angel's Struggle with Depression
Reality star Angel has been in a long-term battle with depression. Agnes had been struggling with depression since her teenage years. She believes the struggle with depression was a result of too much pressure. Pressure from her parents and her environment.
She also disclosed that she started self-harming at 14 and had attempted suicide.
Angel Big Brother Naija Marital Status
The reality star's marital status according to her is "Single and Ready to Mingle". She had a serious relationship before going to the Big Brother Naija house but it ended in 2019 when she lost her boyfriend.
She made a declaration that she isn't for anything serious in a relationship until she recovers from the loss of her boyfriend.
Now that we know full details about Angel's Relationship status, let's get familiar with her cars.
Angel Big Brother Naija Cars
About a month ago, exactly on the 7th of November, 2021, Angel made a post on Instagram where she shared pictures of a Newly Bought Range Rover and a snapshot of her Goals for 2020/2021. Her goals for the year contained getting herself an apartment, owning a car, publishing a book, and being happy.
She was very excited as she has achieved almost all of her goals. According to her caption, she paid rent and bought herself a car.
Surely, merely thinking about her achievements would have brought her happiness. Pictures of her Car and her Goals are shown below.
Let's dive in to learn about Angel Big Brother Naija's Net Worth.
Angel Big Brother Naija's Net Worth
Celebrities' Net Worth is estimated by subtracting their liabilities from their assets. Assets are acquired with time, therefore, there isn't an estimate yet for Angel's Net Worth. Be sure to check back, we will update it once an estimate is available.
I'm sure by now you would want to see Angel's updates by yourself and monitor her activities on social media, her social media handle is given in the next section.
Angel Big Brother Naija Social Media
Angel's fans grow day by day and as of today, she has amassed over 880,000 followers while she follows only 183 people.
Her social media can be found at @theangeljbsmith.
Final Notes on Angel Big Brother Naija Biography
We hope we've been able to deliver a sufficient amount of information about your favorite. If you found this article informative and interesting, kindly share it with your friends and family.
Also, Read Janemena Biography.